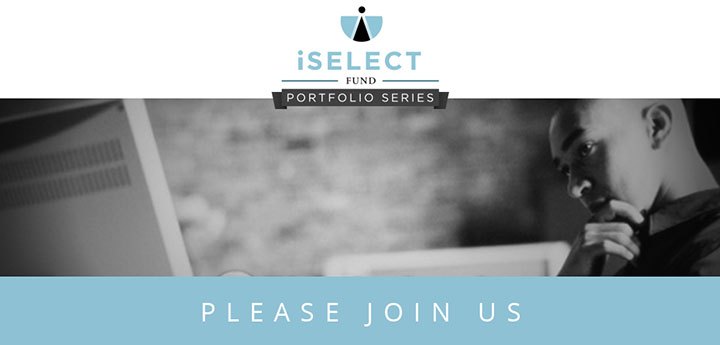 I can't speak for other pandas, but I'm a window shopper. It's probably why I thoroughly enjoy beauty pageants. I can sample the merchandise, to a degree, without making a purchase.
Enter the newly-launched iSelect Fund, which gives accredited investors a rather unique level of access to its promising portfolio of emerging growth venture companies. And feeding my interest in beauty pageants, this week iSelect announced it will begin hosting a particularly fascinating digital portfolio series featuring St. Louis entrepreneurs – the first one coming Dec. 18.
"We're providing potential investors a never-before-seen level of transparent access to the companies in our investment portfolio," said Scott Levine, the founder of iSelect who has pretty fabulous hair. "Prior to the enactment of the JOBS Act, it was not permissible for a company to publicly share the specifics of a private investment opportunity. A public event like this is incredibly progressive and almost unheard of because the concept is so new."
The iSelect Portfolio Series will run indefinitely featuring the few, fully vetted and selected early-stage companies, which were chosen by an elite committee of the region's most prominent venture investment professionals, angel investors and entrepreneurs.
Go on, you say? You're still listening? You should.
It all stems from a little event that happened in Washington, D.C. in July, when the U.S. Securities & Exchange Commission (SEC) ruled in favor of Title II of the JOBS Act, allowing private startups and small businesses to raise investment funding publicly. Title II took effect in September. The result has been a proliferation of platforms that allow nearly any company looking for capital to post its offering online. The iSelect Fund is uniquely different from the hundreds of angel and crowd funding platforms in that each individual company from hundreds of applicants that is ultimately selected by the Fund has been evaluated and approved by accomplished venture professionals.
Rather than just another platform enabling one-off online investment into a startup, the iSelect Fund allows accredited investors to create a hand-selected, diversified portfolio of as many as ten companies, subject to a minimum investment of $50,000. These accessible minimum investment thresholds are unique to iSelect and enables investors and their advisors to achieve exposure to the promising return potential of the venture asset class at an entry point that has been previously impossible.
The Portfolio Series is designed to give investors a better idea of how they might like to diversify their venture investment portfolio to the selected companies.
"We are currently focused on St. Louis since the startup community is so strong here, but we're eager to expand very soon," said Levine, while running a fine tooth comb through his mane. "We're currently looking to establish a broader presence that can allow for a deeper pool of early stage participation in the fund."