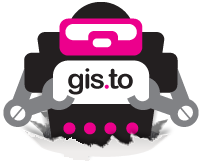 With the abundance of opinions and observations floating out in cyberspace these days, we've all attempted to read an article and at some point stopped reading, only to leave ourselves thinking, "What's the point?" A new Chicago-based start-up, Gis.to, helps to take the guess work out by giving readers the chance to read a 200-word synopsis instead of weeding through the entire article.
Started by three "avid readers," Len Kendall, John Geletka and Tyler Travitz were falling into the same reader funks most of us suffer from. Writers can sign up and write short "gists" or search for gists written on a number of topics. Readers can rate others gists and then choose to read the longer version at a later time.
Kendall said the company just finished raising $2500.00 through Kickstarter, which boasts Gis.to as the "Cliff Notes to the Internet." Since Kickstarter is usually used more by individual artists or writers rather than start-ups, Kendall said the team was pleased with the first push of funding.
Over the next few months, Gis.to will be focusing on building more content and adding users and writers before turning to a revenue-seeking format. Kendall says they currently have a "modest" 250 users so far.
One of the biggest gaps Gis.to hopes to fill is a synopsis geared towards the CEOs of Fortune 500 companies who want to keep an eye on the competition.
"We're looking to do featured posts, kind of like Twitter's featured tweets," said Kendall. "(CEOs) need to consume data and we're looking to be the arbiter between the companies and all the great data. It's strange no one has taken on that role. Many companies do so internally, but there's no external marketplace yet."
Gis.to is planning on opening their marketplace even further by having users send requests for gists to be written by their favorite writers. Users can put a price on what they would pay for a shorter version and based on a ranking system, writers with higher ranks get first choice of what they would like to write about.
"With the ranking system, the idea is people will pay more for higher quality work," said Kendall.
To learn more about the project and keep up with their progress, follow them on Twitter @HeyGisto. If you're interested in supporting Gis.to, you can make a donation here.