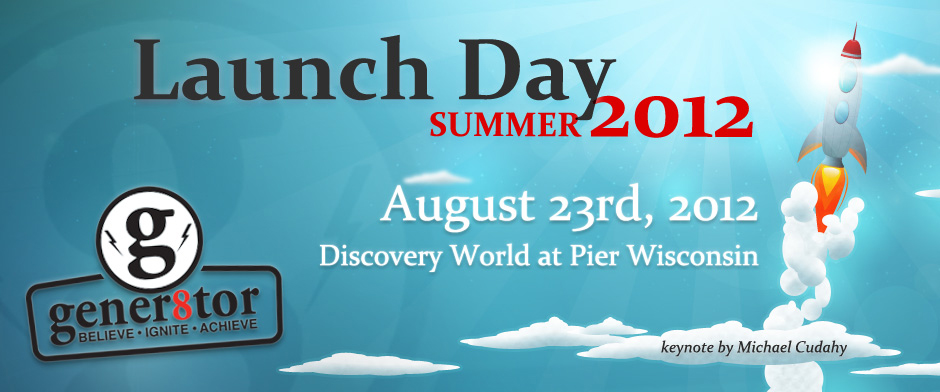 This week Wisconsin startup accelerator gener8tor held its first-ever demo day, showcasing seven growing business during an event in Milwaukee. Following three months of mentorship and training, each of the seven startups were given five minutes to pitch their idea to a room full of investors and entrepreneurs.
Gener8tor was founded by former members of Granite MEDSystems and Wisconsin seed incubator 94labs. Self-admittedly modeled after big-name accelerators like Y Combinator and Boulder's TechStars, the program offers each participating startup seed funding in exchange for a small equity stake in the company.
Startups participating in the inaugural program included UConnect, SpanDeX, MobileIgniter, Subsidence, Date Check Pro, Swapferit, and The Good Jobs. The Wisconsin accelerator is centered around lean startup methodology, focusing primarily on mobile, social, and software as a service companies. The program currently has working spaces in Milwaukee's third ward and Madison's capitol square.
"We bring capital, expertise, mentorship, network, and community to startups so they have a place that they can call home, and a group of people they know are with them all the way," said gener8tor co-founder Joe Kirgues.
Many of gener8tor's first class are Madison-based projects, with a few straight out of the University of Wisconsin campus; both SpanDeX and UConnect are ventures founded by UW Madison students. On campus UConnect is known for Mad Bites (formerly Badger Bites), an online food ordering service that has already added another ten cities to its roster during the gener8tor program.
Other interesting startups taking part in the program include Swapferit, a barter-based online marketplace, and data company Subsidence, whose goal is to provide in-depth weather analytics for insurance, power trading, and forecasting purposes.
"Gener8tor is a way for investors to invest in their community, to create jobs and wealth," said Kirgues. "It's a sustainable way of making a difference."
In addition to the demo day, gener8tor announced this week that it has become part of the Global Accelerator Network — an affiliation that will provide the accelerator with further support and networking opportunities. Gener8tor will start accepting applicants for its next class in September, which is scheduled run until January of next year.