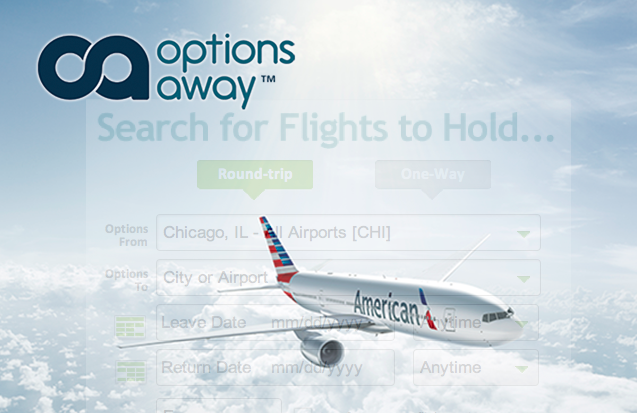 Many grow frustrated incessantly checking Expedia and Bing to see if flight prices have gone up. Now, Options Away can secure steady prices in a highly volatile market, and consumers and airliners might benefit from it.
"We merged what we knew, which is financial products, with what we love, which is travel," said co-founder Heidi Brown. She and her husband Rob created Options Away two years ago, and made it their full time job in the past year.
And travel industry experts find the product appealing too. Monday, the team won the Eye for Travel Innovation Award, with an audience of executives from top travel companies such as Orbitz, Priceline and American and Delta Airlines.
The duo spun their financial backgrounds to apply to the travel industry by integrating financial modeling and flight prices. Options Away is a patented, fully accredited online travel agency – much like Orbitz – but with a different aim than what's already out there.
How it works: You search for a flight, or a number of flights, that you'd want to keep on hold. Then instead of paying for the flight, you pay for the option to reserve the flight, which could range from $5-$50.
The option price depends on four main factors: length of the hold, price of flight, volatility of the price and how far out in time the option was sold, Heidi said.
When you're ready, you can proceed to purchase the flight ticket that has been reserved. If the price of the flight has risen in the market, you're still paying for the price you've held. If the price is lower in the market, you pay the lower price.
And if you choose to not cash in, the option simply expires. Instead of paying $200 for a flight ticket, you've only paid $20 for the option.
"The travel industry is a nightmare," Heidi said. But it doesn't have to be. Airlines kind of "have us" when it comes to pricing. In other industries, you can return almost everything except for maybe a home, she said, explaining that Options Away is a little like flight insurance.
But beyond just saving you money if you don't end up taking the flight, it also saves you a lot of time. You can now plan your trips before you buy your flight ticket, instead of the other way around.
"We're reaching a market that's traditionally difficult to reach," Rob said. Consumers are more comfortable purchasing number of options on flights because they know the price won't change. And consumers are more ready to pay $20 up front to give them more flexibility to plan their trip.
And Options Away is working to create "a bigger pie" for the entire airline industry, he said.
Many players in the travel industry could benefit from the product, Rob said. Online metasearch companies such as Orbitz and Expedia would now have a new way of engaging with the consumer, as would global distribution systems such as Amadeus and Saber.
Suppliers such as hotels and car rental companies are now pushed to the beginning  of the travel decision processes, when before they were pushed to the end of the checkout process.
But what makes Heidi and Rob's product impressive is not just the number of ways it can be used, but also the number of people they've worked with to make this possible.
Prior to Options Away, Heidi said the family only experienced travel as consumers and therefore saw the value of partnering with travel experts early on. The two have attracted seasoned professionals to the team.
Tom Bacon, the company's "airline industry strategist," has held executive roles at American Airlines, American Eagle Airlines, Frontier Airlines and SABRE. And Chief Operating Officer Michael Harbin, was a founding team member of Orbitz and built AMEX's corporate travel site, and has been in the travel industry for 25 years. Chief Technology Officer Don Bodnar has built software for Fortune 500s and smaller startups for more than 20 years.
The team initially secured $600,000 in funding to build the product, and is now seeking funding to scale the business.
And the strategic partnerships they form moving forward might be worth keeping an eye on… as it just might help the company prepare for take off.
To hear more about Rob & Heidi's story, watch the following video: