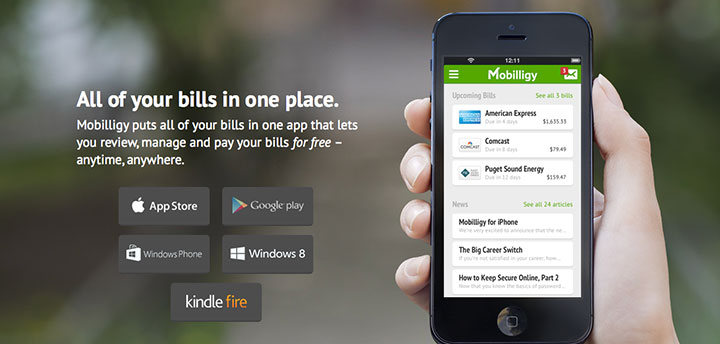 What happens when two Northwestern graduates and great friends want to conquer the next frontier in finance? A very "thoughtful" discussion followed by an app that is so convenient you should really be using it…
"We got together and were looking to figure out what interesting big problems can we solve for everyday Americans," said Tyler Griffin, co-founder and CEO of Mobilligy.  "There are all sorts of tools available for wealthy individuals.  But there are very few for people who are living the middle class, paycheck-to-paycheck life.  How do we build a tool that really helps the majority of the people and doesn't just take advantage of them?"
Griffin has a background in finance.  He worked for JPMorgan in NYC after college, while his co-founder Steve Gordon moved to the other side of the country to work on Microsoft products like Hotmail and Messenger.  They kept in touch, and in 2011 brought their two backgrounds together and founded Mobilligy.  "It was pretty thoughtful actually," said Griffin on how they decided to found their company.  "We sat down and said we want to build a consumer-focused, financial technology business, and it grew out of a pretty clear, determined effort of what we thought were some of the biggest challenges out there."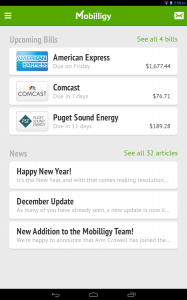 The app syncs and organizes users' bills into one intuitive interface, which schedules payments via tablet or smart phone. It even checks for sufficient funds before submitting payments, so users won't have to worry about overdraft fees.
"You can improve everything, but the family making $50,000, spending almost all their income, and paying a couple hundred dollars in late fees?  It seems like that's a bigger, more interesting problem to solve and from a societal perspective much more valuable to solve," said Griffin.  "And nobody has been interested in addressing that problem."
At least until Mobilligy came along that is.  Of course, the initial idea was more about convenience, but the founders quickly realized that this was a serious pain point for a lot of individuals. In 2013, Americans paid a record high $32 billion in overdraft fees according to Mobilligy's information.
The team first realized this after taking to the streets.  "[We] just accosted random people on the street, asking questions about how they handled their finances," Griffin laughed.  "The reaction we got from them was most interesting. We had initially thought we could save them time, which is still a driving factor, but now it's more around the stress and anxiety of dealing with the bills.  Not jut how annoying, but how stressful the problem is for a lot of people.  It's a real painful need."
Today, the team has 20,000 customers who are using their app, and they still take the same approach, asking them how they can improve.  "That is the most valuable piece of intel we have," said Griffin of their customers.  "We try to have our ear to the ground as much as we can."
Right now, the company is not generating any revenue.  Their focus is strictly on customer acquisition.  In the future, they're looking to roll-out premium features and offer additional services of value to its customer-base.  However, Griffin did assure me the foundation of the app will always be free, and they'll never charge people to move their money or require hidden, sneaky fees for using it.
"The corporate focus is to get more people on the product, grow the user-base, and demonstrate we're solving a need for people," said Griffin on what's next for the team.  "We feel that we're ready for that, and that's the most efficient thing we can do from our next capital round perspective."
With the release of their Android app, you can now officially download Mobilligy in the Apple, Google Play, Amazon Kindle, Windows Phone, and Windows8 stores.  And you really should.  Not only is it extremely convenient and helpful, it could even be more secure.
Griffin commented on the security, stating, "We actually insulate the user from the most common types of attacks.  I would argue it's much safer for the average person because we handle the security for you.  You don't have to worry about typing your login in the wrong website and giving credentials to a malicious third party.  We handle that checking for you."
Watch their overview video below, and find links to download the app here.