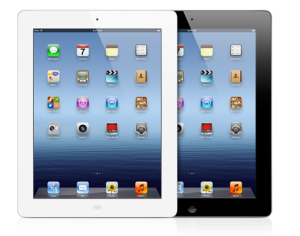 The media reports leading up to the Apple event this week felt a little like your parents telling you there is no santa the week before Christmas. They took all the fun out of it. The anticipation that usually builds up around Apple announcements didn't bubble over this week thanks to product spec leaks and disgruntled tech pundits. Before the event, we already knew that a new iPad and Apple TV would be revealed. Days before Apple CEO Tim Cook took the stage, the new iPad was already being shrugged off.
If you haven't been following the news from yesterday, here's what was announced:
Apple Company Announcements:
Apple sold 172 million post-pc devices last year that accounted for 76% of their revenue. Apple retail is growing, with 362 retail stores.
Apple TV:
The new Apple TV will be available on March 16th for $99. The new AppleTV will support 1080p video.
iPad:
The new iPad has a ton of new features, but the 6 biggest features include: a retina display with 2048 x 1536 pixels, an A5X chip for 4 times the performance, an iSight camera, HD video recording, voice dictation, and 4G LTE. The price of the new iPad with 16gb and wifi is $499, while the price of the iPad2 just dropped by $100.
Software:
iOS 5.1 is now available. iPhoto for iPad is incredible with enhanced editing and display features. Garageband now allows you to jam in realtime with other users.
Most of this news was already predicted. Here are a few of the reactions in the weeks before the event:
From Gizmodo:
Unless you accuse the media of being biased towards Apple products, you should have figured out by now that none of us even care. Who cares. Nobody cares. We are all so jaded and cynical that if cow shit brought in an audience, we would all be sitting in a pasture, DSLRs in hand, waiting breathlessly for the next patty to fall. Or at least, many of us would. We cover what we cover because it's what you want us to cover. And as long as the audience comes in, we'll be there to receive you.
Wow. Media being skeptical about the media about the event? I can't even follow that. Maybe being defensive is the best way to prematurely deal with a let down.
There were even posts that were cynical of the cynics. Here is a post by MG Siegler called "The iPad Sucks*" This guy is the master at creating link bait posts that actually makes you think:
All of this leads to posts where some of us call-out people who are likely to look like absolute morons six months from now when they declare tomorrow a disappointment. And posts that call-out people who are pre-declaring tomorrow to be a disappointment. And now there are even posts that pre-predict posts like this one. My head hurts.
Before the event, there were a few details about the iPad that the press leaked. At the event, they were confirmed by Apple, including the retina display for the iPad, a better iSight camera and 4G LTE. From The Verge:
Our sources say that there's no question the new iPad will tout that 2048 x 1536 Retina Display, but we're also told that along with the A5X, the device will have more RAM than its predecessor, and come in a variety of LTE flavors. There have been rumors flying that the iPad 3 would be LTE capable, and we're told that it will definitely be announced for both the Verizon and AT&T networks tomorrow.
Reports like this take all of the fun out of the announcement.
From John Gruber:
But if a faster processor, more RAM, a double-the-resolution retina display, a better camera, and maybe even LTE networking make for a "modest" update, then what would it take for the iPad 3 to be deemed an immodest update? A fusion energy source? Teleportation? A camera that sees into the future?
John Gruber is right. Consumers are so used to the expectation of "magic" that Steve Jobs created that we almost demand it now.
I tuned into the live feeds of the more notable tech bloggers that were at the event, since I was here in New York. The excitement of the morning quickly gave way to snarky comments:
From Mat Honan of Gizmodo:
So it's just iPad, basically? That sucks if so. If I buy it, I want to be able to lord it over people BY NAME. I'm just going to call it DEBBIE.
Tim Stevens of Engadget was the best live blogger of the day, with quotes from the speakers and some light analysis that wasn't too distracting. But even he slipped in a few cynical remarks:
"Everyone's been wondering… who will come out with a product that's more amazing than the iPad 2?" Let me guess, Apple?
and
He's listing out some examples, like their retail stores, which cater strongly to buyers of iPads and iPhones and such. "These devices are new to many people. There needs to be a placeto discover them." He's showing the new Amsterdam store, photos of the massive lines outside. Apple is up to 362 retail stores, 110 million visitors in Q4 2011. Was there someone at the door counting, we wonder?
So what can you say that hasn't already been said about Apple's announcement? For me, the cultural significance of Apple is in the conversations that happen around the event, not at it. Out of all of the noise, one poignant line emerges that most accurately describes how I feel about the Apple events. It also happens to be by MG Siegler:
There's a very real disconnect between some of those in the tech press and actual human beings, it seems.
To the average consumer who wants to watch movies, play games, record movies, and read articles on their iPad, the features announced this week are going to elevate the experience of using a tablet to near laptop killer status. Tim Cook was right: we really are moving into a post-pc era. Tech pundits can predict, redact, and reblog anything they want to get more traffic, but it won't change the fact that I still believe in the magic of Apple. As long as they continue to push the possibilities of computing forward, I always will.