[Dallas, TX] After raising $8,000 on Kickstarter last month to produce his new music video, singer/songwriter and American Idol Top 24 Finalist Tim Halperin is looking to make a statement and reach a million views without the backing of a major label. How is he going to do it? Online.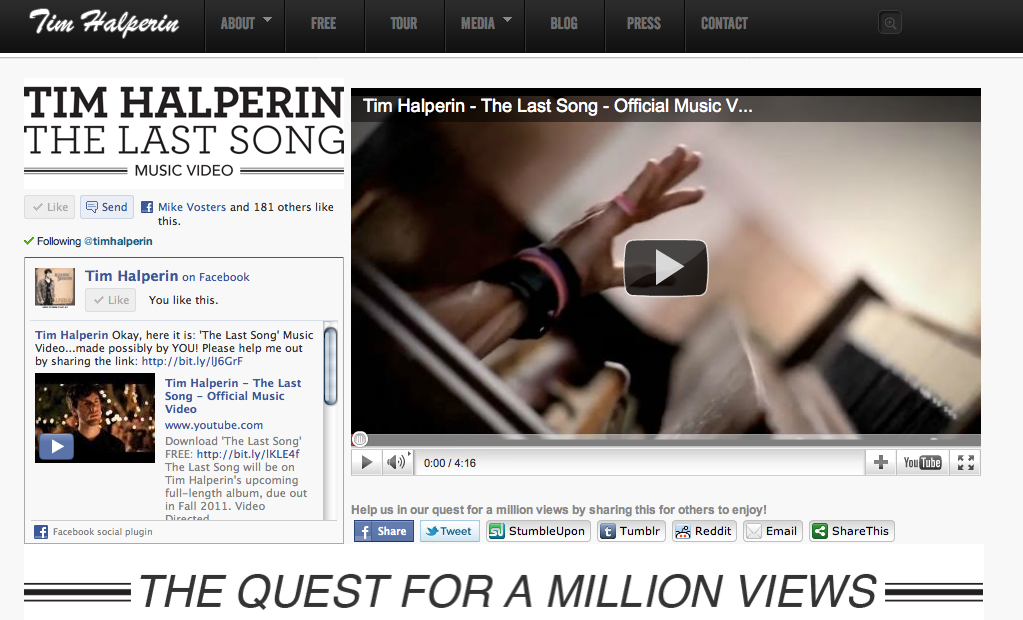 The downfall of major labels is no secret. The internet and other emerging technologies have opened up an entirely new mode of low-cost distribution for artists; and social media allows them to build their fan base with ease. Startups like Noisetrade, Brite Revolution, Fan Bridge, and a long list of others play a huge role in this erosion of power, arming independent artists with the marketing tools they need to spread their music to the masses for next to nothing.
Just ask Omaha-native Tim Halperin. He was eliminated from this season's American Idol after reaching the Top 24 in March. Instead of just returning back to his normal life and job, he's wasted no time in utilizing the latest and greatest of today's technologies to leverage his heightened brand awareness in hopes of hitting the mainstream.
Less than a month after the show, Halperin had launched his new website using WordPress, released the audio single of "The Last Song" for free download on Noisetrade, launched a fundraising campaign to produce a music video on Kickstarter, built up an email database using FanBridge, and accelerated his Twitter growth using Tweepi – tracking the results of such efforts through bit.ly, Topsy, Google Analytics, and various other platform analytics.
Thousands of downloads, visits, and followers later, he's looking to take things to the next level by reaching the one million view mark on Youtube for his Kickstarter-funded music video, "The Last Song" that was just released this morning (view below) on Kidd.tv, the video counterpart to the nationally syndicated morning show, Kidd Kraddick in the Morning.
To do so, he's launched an all-out digital media campaign including Facebook, Twitter, StumbleUpon, Reddit, blogging, PR, paid search, and much more.
"I feel so lucky. There's no way this music video could have been made without Kickstarter and the support I received there from my fans.  It is encouraging when an independent artist can create a professional music video without the backing of a major label. Now my only goal is to make it a success in return for all those who contributed their time, money, and effort." said Halperin.
Help Tim reach the million view mark by watching the video for "The Last Song" below or on his website, www.TimHalperin.com, where you can also download the audio single and his other music for free.
———-
To keep in touch with Tim Halperin, follow him on Twitter @timhalperin or on Youtube at Youtube.com/tshalps.