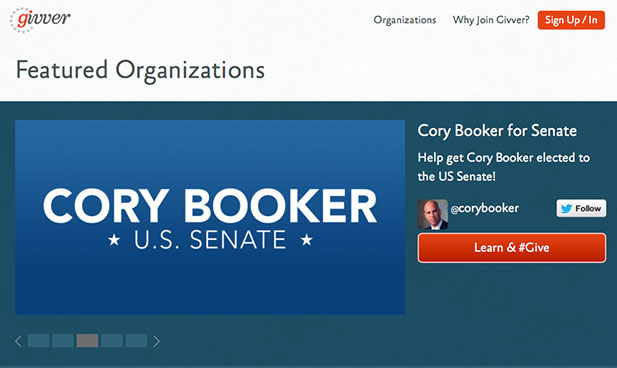 The world of online political fundraising is a dramatic one. And the 2012 elections raised that drama to an all-new grassroots level.  In the past, campaigns have relied on large donors for funding, and smaller donors for their ability to put feet on the ground and voters in the polling place.
President Obama changed the dynamics of that equation when he raised an estimated $690 million online, mostly through small donors who gave multiple times, successfully turning voters and volunteers into a large source of funding for his campaign.
And, quietly, behind the scenes, a brand new fundraising tool that utilized Twitter as the transaction medium was beta-tested during the Obama campaign. Its purpose, to take that spur of the moment passion of a supporter and allow that passion to become a donation with a simple tweet.
Its name is Givver.com, and it has the potential to transform fundraising for candidates, political parties and charities.  As we've discussed here on Techli, Feeding America has been utilizing it to help feed those impacted by the Oklahoma tornado.  It's simple, if you want to give them $10, you would only need to tweet "#give $10 @feedingamerica" and your donation is made.
By now, you're no stranger to Givver and its simplicity. A donor signs up once using Givver's secure and trusted credit card form, and then, if the candidate or charity they support is also signed up, they simply tweet "#give $(amount between $3 and $250) @(twitter handle of charity or candidate)" and the donation is given. A secure transaction takes place between the donor and the cause using the highly-secure Stripe credit card processing system.
Another example: If you were a supporter of the Missouri Republican Party, the first political party to start utilizing this cutting edge tool, and you wanted to donate $10 to them, you would simply tweet "#give $10 @MissouriGOP." And you are done.
"This is a great way to connect with all our followers on Twitter, especially the younger members of the Party," Ed Martin, Chairman of the Missouri Republican Party, said. "They are able to register for meetings or simply give to support our work on an issue with a simple tweet. It's a powerful connection tool for us and them."
The Missouri GOP is also the first Republican representation on Givver, as all the other political users to date have been Democratic candidates. Two of the newest Democrats to begin fundraising via tweets are Cory Booker, who is running for the US Senate in New Jersey, and Terry McAuliffe, who is running for the Governor's Mansion in Virginia.
And the team behind Givver is not just limiting their efforts to the new tool. They are also encouraging people to support charities across the nation via Social Media Giving Day on July 15.
"Particularly amongst millennials, there's an inherent connectivity between social media and charitable giving," said Chris Sommers, Givver's St. Louis-based chief who also founded the popular Pi Pizzeria chain. "And all walks of organizations recognize that social media goes well beyond snapping pictures of your breakfast or updating which restaurant you're sitting in, so we hope that Social Media Giving Day ultimately gives greater, more tangible meaning to the use of social media."
You can add your name to the names already backing this philanthropic effort, such as the Mayors of: St. Louis; Milwaukee; Cincinnati; Raleigh, North Carolina; Orlando, Florida; Naples, Florida; and Alexandria, Louisiana; and the Governor of Missouri at www.socialmediagivingday.org.