[Dallas, TX] In 2008, entrepreneur Blake Burris and his team were the first-round recipients of the fbFund on a mission to help people track their health & wellness with a data aggregation app. With an interest in the growing energy spacedi, they have taken that same technology and pivoted in hopes of saving you and your household money through energy conservation with the Dynamo App.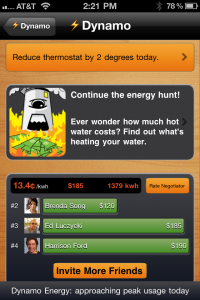 Dynamo Labs is working on the problem of high energy cost and apathy among consumers to do anything about it. With a fun mobile-focused app, they allow people to create their very own energy profile and offer energy-saving solutions that help them save money and pave the road towards a clean energy future.
I sat down with Blake in Dynamo's Uptown Dallas Headquarters housed in CoHabitat, a coworking space for startups, entrepreneurs, and developers.
"Energy is the last major industry that's not IP-enabled, and its projected that $7 trillion is going to be invested i n CleanTech by 2020…but no one cares. We're trying to engage them [the consumer] and make it interesting. If we can do that, we can then help connect consumer with the utilities products," said Burris.
CleanTech is an emerging industry that focuses on innovating to solve the problems of energy, water, and waste. Dynamo's mission is deeply rooted in this space, but more specifically in "CleanWeb" – a next-generation category of CleanTech that utilizes the internet, social media, and mobile technologies to address resource constraints. (Learn more about CleanWeb in this blog post by Sunil Paul, Founding Director of Spring Ventures.)
Dynamo's first app is leading the charge into this space by making it simple for the everyday person to audit their home energy usage and habits. The app will focus on making the user aware of the cost of their usage and taking inventory of the biggest energy hogs like water heaters, lighting, and HVAC (Heating, Ventilation, and Air Conditioning).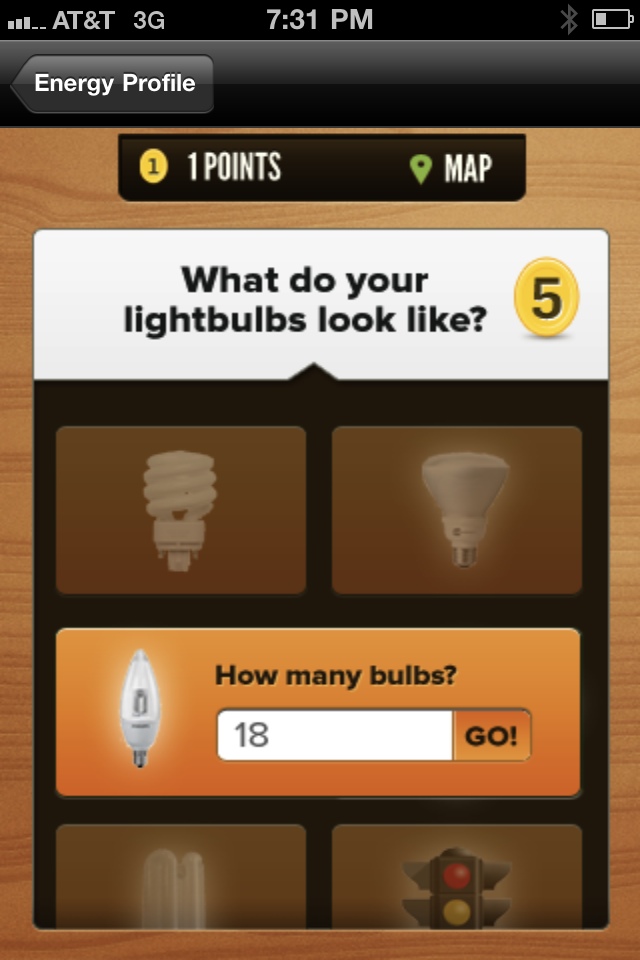 "Part of our secret sauce today is a bit of subjective input. You can be sitting on this app and it takes you through a lighting survey that tells you that lights take up 20% of US energy, then asks you how many bulbs you have. Then, the app can tell them they have a small campfire burning in their home, and how much they can save by switching to CFL lightbulbs. That's one track. There's also quantitative data. By geo-locating, Dynamo can lookup the user's utility and track relevant incentives that match their profile."
Down the line, the app will even be able to offer users deals on various energy-saving products and inform them about tax rebates and other incentives for installing energy-efficient products. For instance, if a user installs a solar-powered water heater on their rooftop, they can receive rebates up to $2000 depending on location. The Federal government, states and municipalities are doing this to encourage people to adopt energy-efficient practices because the state doesn't want to build more power plants.
"Energy retailers just want you to buy their energy. People that sell electric cars just want you to buy an electric car. The experience is not centered around the user. We want to put the user into the center, so that they can plug in any of their energy needs to their mobile device and create a DIY (do-it-yourself) inventory of what's going on in their home. So now a teenage kid can convince their parents to cut down their energy costs, just as they could help their parents quit smoking."
Moving forward, Dynamo will continue working hard to spread the good word about energy-savings, as well as acquire funding to take their product to the next level. They're also organizing a CleanWeb Hackathon in San Francisco and a mixer in Dallas in order to raise awareness for CleanWeb and build a strong community nationwide.
———-
To learn more and sign-up for the Dynamo App, visit their website at dynamo-labs.com.
To stay up to date on all the latest, follow them @dynamolabs on Twitter.