Tech news aggregation suite Drippler has just surpassed a milestone of 1 million downloads of its Android app this past week. The Israel-based startup, which we covered back in February, is celebrating its achievement with the release of a new Android app that automatically recognizes the model of your device and tailors your gadget news specifically to it.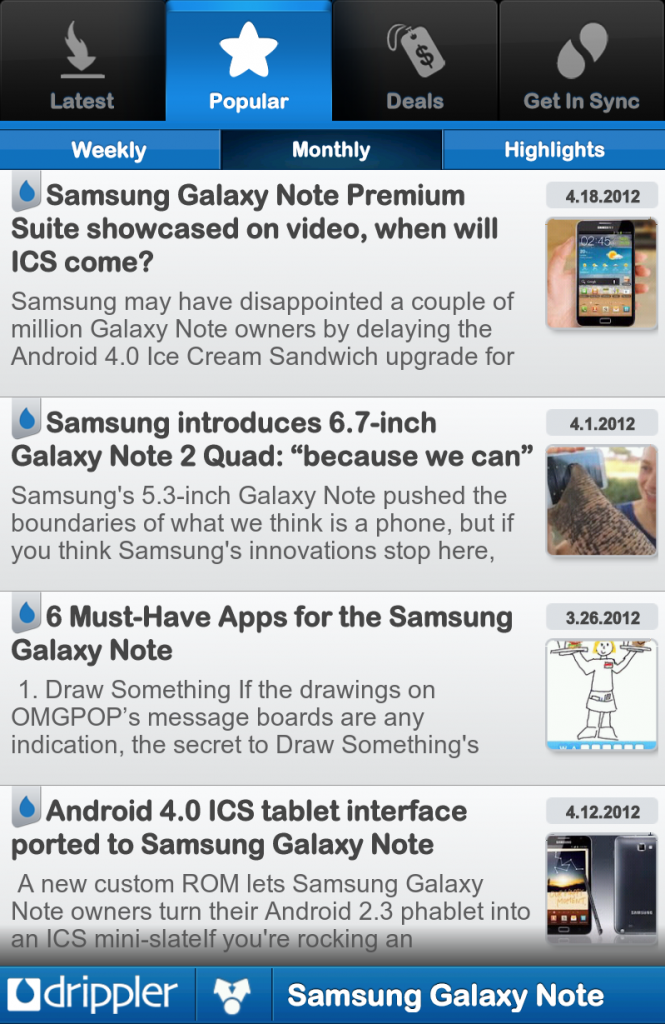 Drippler is a mobile and web based service that allows users to choose the gadgets they're most interested in hearing about. Whether it's smartphones, laptops, or gaming consoles, Drippler will create a tailored news feed of all the gadget news you want to see. It even allows you to select specific models of the gadgets you already own so you can keep on top of software updates and other news.
Today the company launched its new Android app, which features a "brand new design and automatic device recognition." The app can be used on either smartphones or tablets, taking into account each user's specific model and integrating news, app recommendations, software updates, and even tech support related to the device in your hands. Updates can be viewed as they happen live, sorted by popularity, or displayed as push notifications when you're away from your smartphone.
"We're very excited about reaching one million downloads of our app. Following the rising popularity of our updates app we developed this new app so that all Android users can enjoy the service and make the most of their Android devices," said Drippler's co-founder and CEO Matan Talmi in today's press release.
The new app, which is available for free on Google Play, is already seeing very positive reviews. Drippler is currently in the top 50 apps on Google Play, and has been featured on AppBrain's Top 10 Hottest App list. Download it and start getting updates specific to your Android device.