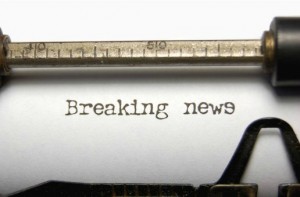 As if you needed more reasons to chase around digital badges on the internet, this week, crowdsourced journalism platform NewsIt announced that it has raised a $500,000 seed round. NewsIt's founder and CEO Melinda Wittstock describes herself on NewsIt's website as
an evangelist on all things socially-networked and 'gamified'.
Wittstock is also an award-winning journalist who has worked for BBC World TV, Financial Times/CNBC Europe and ABC World News Now.
Here's how NewsIt works:
NewsIt has three types of users: correspondants, editors, and content partners. Correspondants are community users. They act like citizen journalists to collect news snippets, comment on news, and share opinions on the site. Editors are professional journalists who assign stories and collect correspondant news to form it into a cohesive news story. Content partners are larger news organizations that use NewsIt's stories to add to their site content. Correspondants will soon earn points and badges based on their participation.
While the idea that breaking news can be crowdsourced and hyperlocal is nothing new, the gamification of news is an idea that is still in its infancy. Although journalist Chris O'Brien has been a vocal advocate for the gamification of news, his project Newstopiaville looks like it never quite caught on. One of his main arguments was a reaction to the deinstitutionalization of news as magazine and newspaper news consumption went down and digital news consumption went up. He wondered why people would pay $1 to send their friend a virtual beer but they would not pay $1 to read the news online. He argued that if we structured news sights like Zynga's popular CityVille game, that we would have increased participation and media consumption on new sites. So far, it hasn't worked.
The notion that news should be turned into a game is insulting to the intelligence of anyone that likes to know what is going on in the world.
Don't gamify news.
O'Brien is not the journalist who has tried to make news flashier in a saturated media environment. Since Twitter has become mainstream, many local news affiliates have incorporated tweets on-air when reporting about a news story. Many entertainment news sites also ask viewers to leave comments about news stories on their social media sites. I'm all for new mediums in which to interact with news like the previous examples, but giving users points and badges for news interaction trivializes important moments in human history.
You shouldn't have to tempt adults to participate in the world with badges.

Games are great. They immerse us in other worlds and they help us develop strategy skills that can be applied to the real world. But what does it say about our culture when we give someone a useless digital graphic for going into the community and getting answers to important topics?
Isn't this just lazy journalism?
In NewsIt's current model, content sites get access to news articles without actual having to create them, and journalists get to organize the facts surrounding a news story without actually having to go report on the news story themselves. So, that leaves citizen journalists doing all the reporting for . . . a badge?
The gamification of news may actually professionalize journalism again.
Although citizen journalism can help uncover important news that is ignored by the mainstream media, there is a level of trust and respect that we should pay to the exceptional professional journalists out in the field. They have the ability to put the facts in a greater context than crowdsourced news stories can.
Do you think news should be gamified? Let's talk about it.