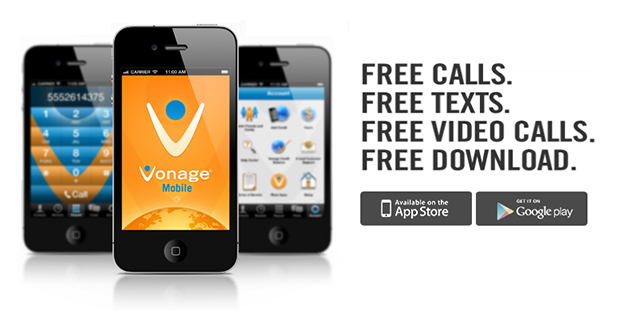 With the addition of video calling to the Vonage Mobile App, there's a new player in the game, and they're not shy about calling out their competition.  "Don't believe the Skype" is their tagline on their site, and they include a video with a comparison between the two apps (See it below).  But, do they really have what it takes to take on Skype?
The Vonage Mobile App does have some nice features, with seamless integration with your phone's contact list, easy to purchase credits right in the app, and prices 30% less than Skype.  They really took the time to think through the user experience and provide an app that is familiar and easy to use. For those already using Vonage, this is a natural progression for the company.
To find out more, our own Edward Domain asked a few questions of Grady Leno, Vice President of Product Management for Vonage's Mobile Services.
Q: Currently most mobile phones have two cameras and can do video calling.  Why is Vonage moving into this space now?  Is it primarily for international video calls?
A: With Vonage Mobile, our goal is to provide consumers with the most comprehensive communications app available with the best user experience. The move to add video calling was a natural progression from providing voice, messaging, and ultra-low international long-distance calling. At the same time, we strive to provide the most cost effective, and in this case, free, video communications solution for anyone who wants to connect anywhere in the world.
Q: Other services, such as Google Hangouts, have also made it extremely easy to video call someone.  Where is Vonage's sweet spot in this space?  Why does it make sense for Vonage to move into this competitive space?
A: Unlike Google Hangouts and other video calling apps, Vonage Mobile users can use their own mobile number to connect with friends and family. We've removed the tedious login and sign-up process to connect by integrating with the user's native contact list already on their phone.  Users simply open the Vonage Mobile app and make a video or voice call like normal; there is no need to create a new identity or build a new network of contacts.  Additionally, we made sure that our solution is differentiated from the pack by focusing on delivering the highest video-call quality compared to major competitors.  Our iTunes App Store and Google Play store reviews have maintained a 4.5 of 5 star rating since launch of the video feature with most reviewers raving positively about our video quality.
Q: Vonage is offering free video calling from its app.  Does each person on the call (caller and receiver) need to have the app installed for the call to work?
A: Yes, both the caller and receiver need to have the app installed for free video calls to work. The great thing about Vonage Mobile is that every voice call, video call and text message is free to other Vonage Mobile users. When making voice calls to people without the app, Vonage Mobile rates are still 70-80 percent lower on average than carrier rates and 30 percent less than Skype.
Q: What is Vonage's revenue model if the calls are free? Is it a freemium model where local calls are free but international ones will require purchasing some credits?
A. All Vonage Mobile calls are currently free to anyone in the U.S., Canada and Puerto Rico, even if the recipient does not have the app, and all calls to other Vonage Mobile users worldwide are free. Credits to make international calls to those without the app can be purchased in-app via iTunes or Google Play. Downloads of Vonage Mobile continue to grow and we are encouraged that downloads, usage and the number of paying customers are not just growing, but accelerating, especially as we've introduced recent product enhancements like video calling.
Q:  What is Vonage's long term strategy?  Is Vonage still relevant in a world where more and more people are abandoning landlines? Is this why there has been a move into mobile?
A: Consumers demand mobility and always have cost and quality as priorities. We aim to be the leading communications company that provides value to people by offering the freedom and flexibility to communicate wherever and whenever they choose, whether it be via landlines or mobile. Vonage Mobile is a great complement to our broad range of home services, which appeal to various consumer lifestyle, usage and budgetary needs. Our customers enjoy the convenience, quality and low cost of a dedicated home service such as Vonage World, the increased mobility of the Extensions app that allows Vonage home service users to use their international calling plans with their mobile phones and no additional cost, and the many benefits of the Vonage Mobile app, such as free app-to-app calling, texting and video calling.
Q: What is the customer acquisition strategy for users?  Will there be a big media buy in the near future across digital, television and print?
A: We have seen a lot of organic growth with Vonage Mobile via integrated marketing communications, virality and word-of-mouth marketing. We feel the app speaks for itself with its offerings. We do benefit from the halo effect of Vonage-branded advertising as well .
Q: Vonage's app has a suite of features- texting, calling, photo sharing and video calling- all these elements can be tied into social media, but also be used to create a social media platform.  Is Vonage creating a social media platform?
A: Social media platforms require the creation of multiple identities, communities and phone numbers. Our goal with Vonage Mobile is to provide seamless communication from one app. We do see Vonage Mobile as a one-stop app for your communications needs when you want to connect with friends and family who are already part of your existing social media network.  Vonage Mobile has seamless integration with a user's existing mobile contact book, which is a subset of a user's broader social network.  These are the friends that users want to communicate with, and we do see our users engaging in direct communications with those contacts more than in normal social networks.
Q: What are the long term plans for the app, if not a social media platform?
A:  For over a decade, Vonage remained close to its roots with a focus on communications innovations and improving the way people communicate.  We have the infrastructure, technology, and resources to support continued growth and innovation. We are always enhancing the Vonage Mobile app and our goal is to continue to make Vonage Mobile the most comprehensive communication solution on the market with the best quality at the best value.
What do you think? Would you use Vonage Mobile over Skype? Try it out for yourself.  The Vonage Mobile app is available for both Android and iPhone.  Let us know your thoughts in the comments.