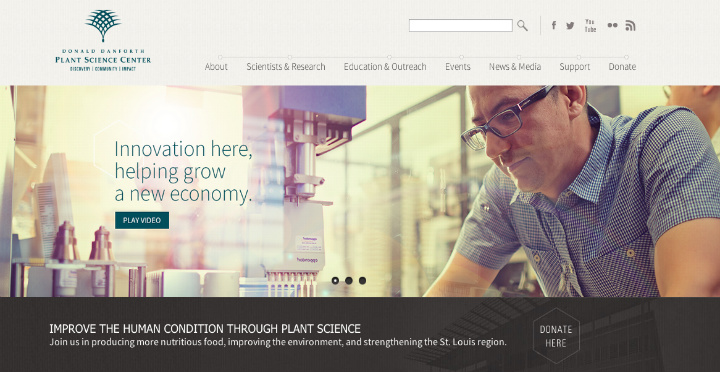 Officials from the University of Missouri and the Donald Danforth Plant Science Center in St. Louis announced today a new collaborative agreement that will lead to the hiring of four new researchers who enhance plant science research to benefit the state, nation and world.
"This is a major milestone for the Center," Danforth Center president James C. Carrington said. "Partnering with the University of Missouri will accelerate research and education at both institutions, and provide new capabilities to translate great scientific discoveries into meaningful impact that improves people's lives."
"True to its mission, the Donald Danforth Plant Science Center has made a positive impact around the globe, and we have been proud to be counted as one of their partners since their founding," MU Chancellor R. Bowen Loftin said. "This new collaboration will directly link the strengths of our two institutions and move us forward toward our mutual goals of feeding the hungry of the world and educating the next generation about plant science."
The agreement specifically calls for the hiring of four accomplished research scientists with specialties in the plant and crop sciences. Two of the researchers will be housed at the Danforth Center and two will be housed at MU.  The new four faculty members will have joint appointments at both institutions and will have tenure at MU. Costs for salaries, benefits and other expenses associated with the hiring of the faculty will be shared equally by MU and the Danforth Center.
"The Danforth Center and the University already work together closely on several major projects," said Todd Mockler, the Gerry and Bob Virgil Distinguished Investigator at the Danforth Center. "But partnering to bring four new lead scientists to the region will provide a huge boost to collaborative scientific and technology development efforts."
"We believe this unique collaboration will be very enticing to accomplished scientists in the plant sciences arena," said John Walker, chair of the Department of Biological Sciences at MU and member of the Danforth Center Scientific Advisory Board. "Having access to the resources of these two research institutions that have stellar reputations in this area, while having an opportunity to mentor undergraduate and graduate students, will be very appealing to many faculty."
The agreement builds on a previous partnership involving MU, the Danforth Center and seven other research centers that were awarded a $20 million, five-year grant from the National Science Foundation earlier this year; the funds support research to explore climate variability and the potential agricultural, ecological and social impacts on Missouri.
"This is a tremendous opportunity to build on the tradition of excellence in plant science research and education at MU," said Bob Sharp, director of MU's Interdisciplinary Plant Group (IPG) and professor of plant sciences. The IPG was established in 1981 and encourages interdisciplinary cooperation among 58 research teams engaged in plant molecular biology, physiology, biochemistry, genetics, biotechnology, evolution, ecology and computer science. In the last 10 years, IPG faculty members have received more than $140 million in grants.
"This is a very exciting opportunity that demonstrates the academic strengths of both institutions," said Hank Foley, executive vice president for academic affairs, research and economic development with the UM System and senior vice chancellor for research and graduate studies at MU. "This collaboration also will help us achieve some of the goals set forth in MU's Strategic Operating Plan, which is designed to enhance MU's leadership in higher education by attracting highly accomplished faculty."