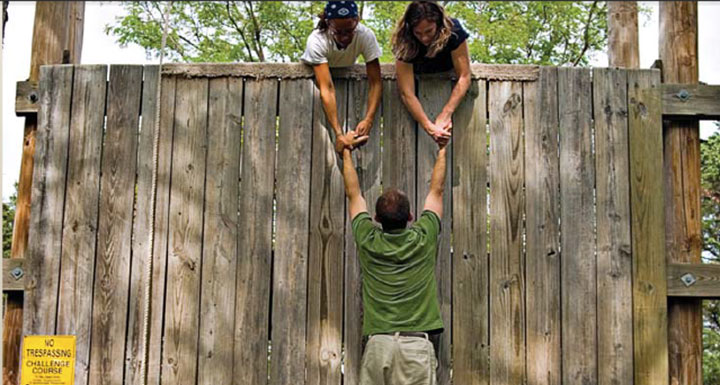 In covering Midwest tech startups, we tend to look at every aspect of the startup experience, ranging from the obvious to the not-so-obvious.
The obvious are things like raising funds and bringing your product or service to market. The not-so-obvious can include quality of life issues that impact job satisfaction or even team building.
On the team building front, one thing that startups often forget to do are retreats – just get away with the team, brainstorming how to improve the business and working in groups to develop processes that make the business grow.
I was thinking about this lately while I was drinking moonshine and reading a story about a 200-acre farm in New Haven, Missouri, called Cedar Creek.
"Cedar Creek offers numerous meeting spaces in a variety of sizes to ensure groups are able to accomplish their goals," Patrick Vatterott, general manager of Cedar Creek, told eMissouri. "However, I believe it is the area that brings groups back year after year."
I was skeptical at first – it's a panda trait – so I hopped in my 1973 El Camino and trekked the 75 minutes from downtown St. Louis to Cedar Creek. What I found, quite frankly, did not suck in any way and seemed to fit the startup mold, so much so that I crafted 10 reasons why Cedar Creek works for startup retreats.
1. They brew their own beer. 2nd Shift Brewery currently has 11 of its own beers on tap, with tasty treats such as Brew Cocky, Ratsalad and Unicorn Killer Saison 3.
2. Sticking with booze as panda's consider it "thinking fluid" – if you're not a beer fan, Cedar Creek has wine tastings from Robller Vineyard and other wineries around the area. The local Pickney Bend Distillery is also featured at Cedar Creek, so sample up on the vodka, gin and whiskey.
3. If you consume too much booze, Cedar Creek has a variety of lodging options to crash for the night, or weekend. From the Cedar Lodge to the Manor House, if everyone from the company decides to stick around for the evening, group rates are available.
4. The food at Cedar Creek does not suck – particularly breakfast – using seasonal local ingredients for tasty meals. The catering is served in the Swiss Chalet, but for those looking at more informal settings can also try the Town Hall & Saloon, which plays live acoustic music.
5. . Cedar Creek has program coordinators on-site that will help plan a host of activities, such as hiking and team-building ropes courses. And given that New Haven is a ways from the bustling city, you can be sure no other distractions will be present (although we do have impeccable cell service).
6. Panda's dig swimming and they have a salt water pool….and a pond. Pond is better for you.
7. Need a diversion? Bring your sticks for the 9-hole golf course. If you decide to cheat a little bit to impress your colleagues, we won't tell anyone. Tennis courts are also available.
8. For the outdoorsy, introverts, or those looking to get in touch with nature: Cedar Creek has two hiking/biking trails and a 7-acre fishing pond filled with trophy-size largemouth bass.
9. Pandas are welcome, which is not the case everywhere.
10. Did we mention that they brew their own beer and grow the hops that go in it?
It usually takes a lot of work to plan these things. Luckily, Cedar Creek offers a digital and printed version of their corporate retreat checklist – something to provide you with a little bit of organization and clarity.
We dig. You may too.