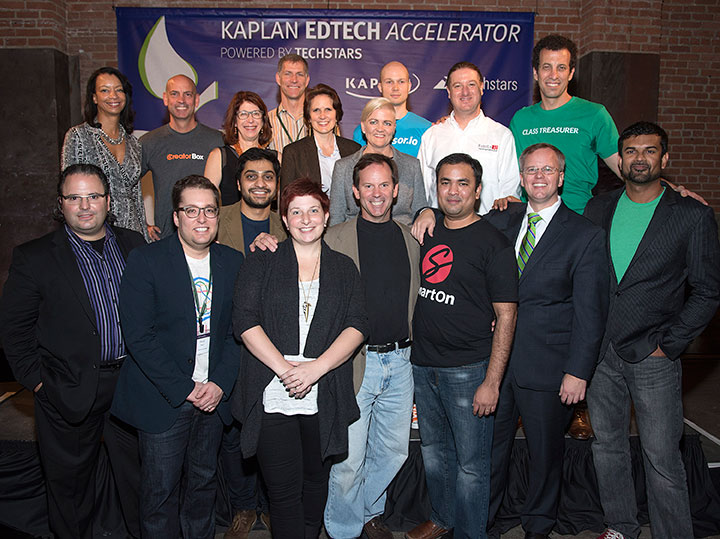 Yesterday, 11 startups showcased their best and brightest educational solutions to a group of angel and venture investors and leaders in the educational sector in New York City. The presentations marked the end of an intensive, three-month business development program, where the startups worked with Kaplan executives and other experts within the tech and business communities
From solutions providing web applications that identify students' learning challenges to immersive mobile training solutions to empowering students to learn critical data literacy skills, these companies are providing forward-thinking solutions to help students keep up in our ever-changing world.
The Kaplan EdTech Accelerator was launched in 2013 by Kaplan, Inc. and Techstars and is the first and largest corporate-sponsored accelerator focused exclusively in edtech.
"We've been inspired by the talent, ideas, and shared passion to change people's lives through education that these 11 Kaplan EdTech Accelerator startups demonstrate," said Edward Hanapole, Kaplan's CIO.
Hanapole also commented on how much the startups matured over the course of the accelerator and translated their ideas into something viable.
"ClassWallet was more conceptual and broad before arriving at the Kaplan EdTech Accelerator," said Jamie Rosenberg, Founder and CEO of ClassWallet. "Through our strategic mentors, we managed to accelerate our product and technology road map, as well as solidify our position in not only the edtech vertical, but fintech as well."
Another Startup, Tuva Labs, shared more of their experience. "We have gotten fantastic traction since the start of the Kaplan EdTech Accelerator program. Today, teachers in more than 2,300 schools across 50 states and 45 countries are using Tuva with their students," said Harshil Parikh, CEO of Tuva Labs.
Take a peek into some of the innovative companies looking to make their mark in the field of edtech.  Are any of these the next big thing for education?
Branching Minds (New York, NY): Web application to identify students' learning challenges, match them with research-backed learning supports, and then track and report on students' progress. branchingminds.com
ClassWallet (Miami, FL): Platform where administration, parents and vendors connect with teachers for peer-to-peer funding and purchasing for anything from supplies to technology to field trips. classwallet.com
Cognotion (New York, NY): Delivers immersive mobile training solutions for the entry-level millennial workforce on a user-configurable, industry-specific, and cloud-based platform. cognotion.com
CreatorBox (New York, NY): Delivers fun projects families build together that inspire kids to learn about topics in science, technology, engineering and mathematics (STEM). creatorbox.com
Edvisor.io (New York, NY and Toronto, CAN): Global distribution system that aggregates school data and distributes to global educational travel agencies to better serve students seeking international education experiences. edvisor.io
Lea(R)n (Raleigh, NC): Online platform that collects and quantifies data to improve how schools and districts try, buy and use education technology, saving them money and time, and avoiding costly mistakes. learntrials.com
reKode (Redmond, WA and Reykjavik, Iceland): Developed a proprietary curriculum and specially designed tech centers to spark interest with kids in the wonders of coding and technology. rekode.com
RobotsLAB (San Francisco, CA): Created award-winning, standards-aligned programs that use robots to engage students in hard-to-teach math and science subjects. robotslab.com
SmartOn (New York, NY and Bangalore, India): Online bootcamp for digital skills teaching specific technology tools in areas such as e-commerce and digital & social media marketing through project-based courses leading to certificates. smarton.co
Story 2 (New York, NY): Puts students in charge of the admissions process by teaching their proprietary Moments Method® curriculum, leveraging a scalable online writing platform, and connecting students with a network of trained admissions experts. storytocollege.com
Tuva Labs (New York, NY): Empowers students of all ages to learn critical data literacy skills around their favorite topics or desired careers. tuvalabs.com
Photos During the Event courtesy of Kaplan EdTech Accelerator: