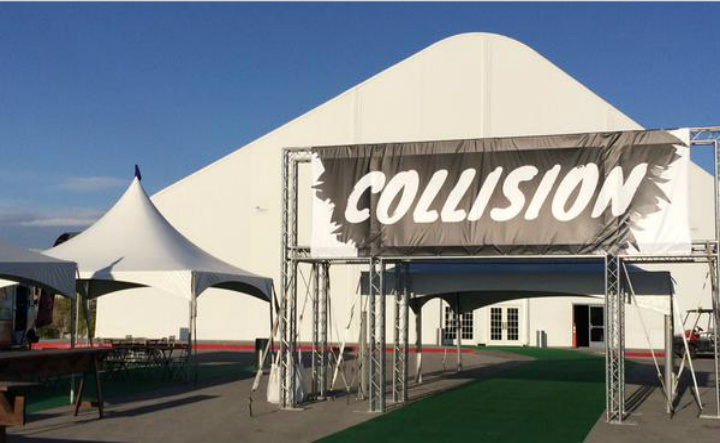 A large group of people looking to make it big invaded Las Vegas last week. But they weren't tourists looking to run the blackjack table. They were entrepreneurs and investors looking to hit the tech jackpot at the second annual Collision Conference — the American version of Dublin's world-renowned Web Summit.
A total of 7,500 attendees crammed into the World Market Center for this year's "grand conclave of tech's high priests." This eclipsed last year's total of 1,100 attendees.
With so many talented entrepreneurs in one place, things were bound to get interesting. Here are the eight companies that stood out:
@nujj
Nujj brings the privacy, security, and impermanence of Snapchat to the events space. The app allows users to set up digital soirees that self-destruct after 24 hours, helping hosts keep their meetups as exclusive and discreet.
@ThermoSivTech
ThermoSiv is a company focused on smart heating tech, and it has a big vision: To make the world more energy efficient. Taking inspiration from the sun, the company's fabric actually radiates healthy therapeutic rays.
@peerbelt
Peerbelt is a real-time content recommendation engine. It maximizes the amount of time readers spend on websites by identifying and automatically presenting the most engaging articles to them. This app will be an especially important asset to the ever-growing content marketing industry.
@bizense
Adatrix brings a new look to data monetization with its approach. The tech platform matches data-rich companies — such as large publishers and ad networks — with benefits like advanced analytics, targeted ad delivery, and revenue optimization.
@sales_prodigy
The most extroverted people in the working world now have their very own social media tool. Sales Prodigy brings a social element to sales intelligence by aggregating your social networks into one centralized location where you can see collaborative opportunities.
@bechampio
Champio is a platform that enables leaders to empower their teams. The company's software creates a platform that allows every employee within a company to have his or her voice heard. The company's end goal is to engage disengaged employees. In some companies, up to 87 percent of employees identify as "disengaged," so this is a much-needed tool.
@bankmybiz
BankMyBiz takes an innovative approach to helping businesses get bank funding. The network seeks to make the process less of a headache by helping match business owners to lenders. To date, BankMyBiz has $48.2 million in its relationship pipeline and has helped create $5.8 million in successful relationships.
@garbshare
Garbshare seeks to help users make more responsible spending choices on clothing and accessories. The app also allows them to digitally organize their closets, plan outfits, and share their looks with others. Think of it as a "cloud closet."
This is just a small selection of the hundreds of tech companies that were at this year's conference. Even though this year's turnout was huge, I expect next year's event to be an even bigger meeting of the best tech minds.