[Dallas, TX] Established in 2008, CoHabitat has been and is a unifying piece of the Dallas tech scene, where entrepreneurs and startups meet to create, collaborate, and socialize. With over 4,500 square feet of space within the walls of the 100-year old Uptown Dallas house, it has seen more than two-dozen companies and a few thousand event attendees pass through. I spoke with co-founder Blake Burris to get the scoop on its past, present, and future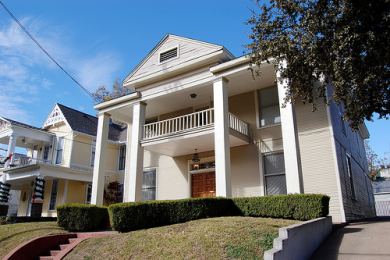 The genesis of CoHabitat can be traced back to 2006 when Blake, Christopher St. John, and Brian Oberkirch decided to organize the first BarCamp event in Dallas. At the event, Chris Messina presented ideas about co-working and how it had taken root at San Francisco's Hat Factory – something that had never been done in Dallas up to this point. The attendees thought the city needed a central place, a beachhead, to foster the tech community and that a co-working space was just the solution. Soon thereafter, a wiki had been created and the wheels were in motion.
The team put together a list of requirements that had to come together in order for it to be possible. The rent of the real estate had to be low enough to be covered by a few larger startups, yet the space needed to be big enough to hold events as well as be in a cool part of town. At the time, meetings, conferences, and other events had no dedicated meeting place near the heart of the city. Refresh, a web design meetup was meeting out in north Plano, the Ruby Brigade was in Addison, and various others changed their locations from month to month. The goal was to have a central place for flexible workspace and events, and have it be easily accessible to people throughout the Dallas/Fort Worth Metroplex.
Despite the talk, nothing came together until late 2008 when Blake and Dallas entrepreneur Dave Copps settled on a giant house in the State-Thomas Historic District of Uptown Dallas – in which they are still located today.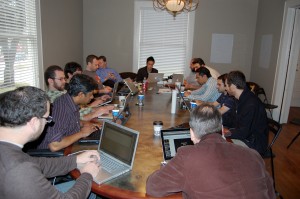 In December 2008, a group of 12 moved in and worked alongside a family real estate business as they packed up shop. Antiques and phone systems moved out; Ikea desks, WiFi networks, and lots of Mac laptops moved in. It was a good scene for the oft-labeled pretentious Uptown area with entrepreneurs, developers and creative types mingling over beers, conversation and the first of many tech meet-ups.
From that time forward, the word spread and CoHabitat established itself as a great place for startups – like Traxo. Traxo is the "mint.com for travel" and has been based out of CoHabitat for nearly 2 years.
Traxo's co-founder Andres Fabris said, "The best thing about CoHabitat is the ability to interact with other like-minded individuals doing startups in Dallas. We bought into Blake's vision to have a central place for startups and now in my opinion, CoHab along with the TechChurch has become the epicenter of the startup community in Dallas."
Despite its past success, Blake is looking to the future and steering CoHabitat in a new direction; something he calls "Cleanweb."
"As my company, Dynamo Labs, re-directed to address opportunities to do with the 'clean economy' in late 2009, I quickly realized there was an equal if not much larger opportunity to make an impact for the company and for the greater good utilizing the CoHabitat model to unify and accelerate efforts of local entrepreneurs, developers, and stakeholders. This is new territory for me but I'm not deterred. Reception has been good so far — we shall see."
To drum up interest in the space, Blake will be hosting a "Cleanweb Hackathon" with Sunil Paul in San Francisco in mid-September with hopes of having a mirror event in Texas simultaneously in partnership with Earth Day Dallas and CleanTechOpen.
————-
To learn more about CoHabitat's pivot to Cleanweb, read this blog post.
To learn more about CoHabitat, visit its Facebook page or check out an upcoming event.
To learn more about the Cleanweb Hackathon, go to CleanWebHack.com.
To connect with Blake, follow him on Twitter @blakestar.