There has been a seismic shift in entertainment over the years. What was once an out-of-home experience has become an increasingly in-home activity. VHS and DVDs paved the way and companies like Hulu and Netflix have recently taken the baton, streaming high quality content to its users.  But with more high quality video readily available on the Internet, and mobile devices affecting viewers' behavior, there is a need for a new type of distribution company, a company like Chill.com.

Chill is a Los Angeles-based startup founded by Dan Gould and Brian Norgard. These partners are seasoned startup vets, having previously founded Newroo, acquired by Fox Interactive Media six years ago and Ad.ly, the largest celebrity ad network. Their latest venture is possibly the strongest attempt at fusing the technology of Silicon Valley and the high quality content of Hollywood.
For years, there has been a disconnect between the Silicon Valley culture of building great communication tools and Hollywood's story telling culture. The unfamiliarity of each other often caused mutual incomprehension and occasional hostility. But the two worlds belong together. As Gould puts it, "They're like peanut butter and chocolate. Great stories + great tools."
While its vision today, "Make video discovery great" is clear, Chill has come a long way since it first launched. To really grasp the intelligence, experience, and audacity of Gould and Norgard, one would have to go back to their original idea, Namesake. Chill was originally Namesake, a professional social network, set to rival LinkedIn. After some experimentation and deliberation, Namesake made its first pivot, to Chill, a social video viewing platform.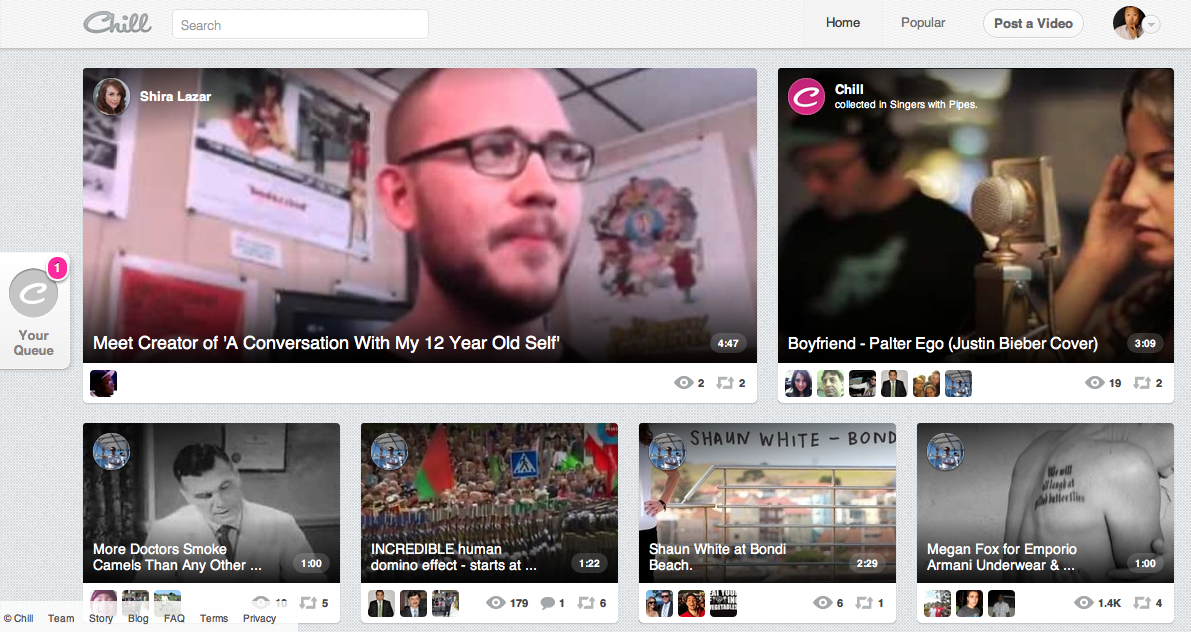 The early days of Chill were eerily similar to Turntable.FM, mimicking its DJs and allowing users to VJ and play their own videos for the room. But as Chill matured, the team saw an opportunity to disrupt the home entertainment industry. Thus came their third pivot to the present day Chill, a social video discovery platform.
When I spoke to Gould about these pivots, he shed some light on the inner workings of Chill, "We spend lots of time talking with users to try to figure out how to create great experiences and solve their problems. But it takes lots of work and experimentation to get it right. We've learned a lot and think we've hit on something that people really care about."
From where I sit, I believe that Chill has the potential to be the company that finally melds Silicon Valley and Hollywood in a
harmonious partnership. Gould and Norgard's Silicon Valley roots combined with their immersion into Hollywood's culture gives team Chill a unique personality. Like many Silicon Valley startups, Chill is more focused on technology and product than monetization.
This goes against the grain of LA's typical startup mentality, which frequently focuses on earlier monetization strategies than their northern counterparts. Yet, Chill has a need and respect for Hollywood's high quality content that their Silicon Valley peers just don't seem to grasp. It is by no means trying to kill the entertainment industry, like Y-Combinator's Paul Graham recently called for. Rather, Chill is looking to innovate a very slow moving industry that desperately needs to adapt to society's changing relationship with technology.
Chill's West Hollywood headquarters alone is an indication of how it feels about Hollywood. Gould explained that Chill views itself as being a part of Hollywood. It wants to be a part of the community and interact with creators and fans. Simply put, Los Angeles is the best place for Chill to be.
In Mary Meeker's latest internet trends presentation, she specifically named Chill as a disruptor in home entertainment. It's quite the honor considering Meeker's track record of being ahead of the curve. And Chill's recent partnership with Hollywood powerhouse, William Morris Endeavor, indicates that Hollywood is slowly catching up to technology and embracing a new model. These are two powerful votes of confidence, indicating that team Chill is indeed onto something big…redefining the future of video discovery and home entertainment.