Political transparency? In Chicago, Illinois?
Transparency is a buzzword in the political world these days, though it's not something we allow ourselves to truly believe will come out of this historically corrupt metropolis.  It might even confuse us — we'll still be looking for the kickbacks and patronage hiring behind even the most honest of efforts. After all, 3 of our last 7 Governors have gone to jail, and if good ol' Blago goes too, that'll make it an even 50%. However, odds like those are not going to stop our two newest leaders from giving government transparency a shot–and they're turning to technology to do it.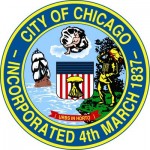 For those of you who don't know how the politics of Chicago work, the City is run by the Mayor, but is also subject to the directives of the county, Cook County in this case. It gets far more convoluted with the addition of City Aldermen and the County Board, but we don't need to get bogged down in all of that mess, and I promise you, it's a mess.
The year 2011 sees two political dynasties end and two new big players ramp up their agendas. The nationally infamous Mayor Richard M. Daley voluntarily returns to the private sector this year and leaves 22 years of scandals (Meigs Field) and city improvements (green building initiatives) in his wake; locally infamous Cook County President Todd Stroger was soundly trounced in the 2010 elections and thus ends the nepotism his administration (and his father's) had been so heavily criticized for.
In their places come the very well known Mayor Rahm Emanuel,  former Chief-of-Staff to President Obama and all around Chicago wild card; and Cook County President Toni Preckwinkle, a former CPS teacher and 19-year Alderman. From what I can gather, we've got two pretty different personalities here — loud and brash Emanuel and quiet yet matter-of-fact Preckwinkle — but they've got something in common in that both administrations have turned to the Internet in their bid for greater transparency. They seem to understand that anyone that comes after Generation X probably doesn't register information unless it's been broadcast online—and that those born before that mysterious golden age of tech are quickly adapting to the Internet as a central database for the world's knowledge.

Starting with Cook County as a whole, President Preckwinkle has started the "Open County Initiative" which according to their website pledges "to provide the residents of the county with a more transparent and accountable government. This site provides easy access to areas of information, records and data transparency throughout the county." It goes on to link various areas of interest including details on purchases made by the County including a check register that provides a record of payments to County suppliers and vendors. Other information includes Board meeting dates and minutes, proposals and even information on submitting Freedom of Information Act (FOIA) requests. I like this touch in particular — what better way to show you have nothing to hide than to put the means to seek wrongdoing right there for everyone to find? It creates a nice ethos for the site, however unsubtle that effort might be.
Other efforts by the County include a blog which is used to announce each initiative and its subsequent progress. My favorite here is the option to nominate yourself for a Board or Commission — though only for those spots that the County President appoints directly.  I've often wondered how a civilian might get appointed to such a role since I definitely didn't have any connections to talk me up. The guess work is gone—the site is clear on what positions are becoming available, what the various positions entail and the commitment required. So far I've nominated myself for the Board of Ethics, the Commission on Women's Issues, the Zoning Board of Appeals and the North Shore Mosquito Abatement District (my "safety" if you will). It's a surprisingly simple process, but the real shocker would be if I got a phone call as a result of those nominations–I'm not holding my breath. In addition to all of these new schemes and programs, the County websites are riddled with options to share through Facebook, Twitter, Slashdot, Technorati, Google Buzz, LinkedIn and a whole bunch more that I have to stop and wonder if I've even heard of yet.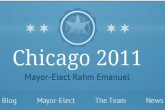 Moving on to the City itself, Emanuel's transition team put up a website to act as a hub for the incoming administration. Incoming became incumbent on May 16th, but it doesn't look like site has changed, though the links are still open, and unfortunately the Office of the Mayor website at www.cityofchicago.org isn't nearly as fun to look at.
It doesn't offer the same opportunities as the transition website either; it looks just like you'd expect the City-sponsored website to appear. The City site does have a link to the transition site, as well as to the FOIA request log for the Mayor's office. It certainly doesn't have the approachability of the transition website though, which is a bit of a shame. The Chicago 2011 site really wants you to get involved! You could sign up for news updates, an RSS feed, follow on Twitter, like them on Facebook, submit your ideas for a better Chicago or apply for a job with the administration.
While I like the idea of applying for a job with the Mayor's office the same way you'd apply to anything on monster.com, I'm still not convinced. Oh sure, I threw my name in that ring too, just to see what would happen, but I am thinking there might be a little less transparency than one might want. You can only submit your resume to the departments of Administration, Education, Special Events and so on, but you can't apply to anything specific, which kind of makes it hard to choose. The applications were all held at an outside human resources firm until Emanuel's inauguration, at which point they were turned over to City Hall. There's no way to follow up or check your status because you sent everything into some drop-down menu drone and not a real email address or department. But that's Chicago for you — they'll let you know if they want you, until then leave'em alone.
It's also disappointing that it appears this site is going to be allowed to lapse rather than evolving, but perhaps it served its

purpose. One of the most notable items to come out of the transition website and its call to the citizens is the Transition Report. This document takes into consideration each idea submitted to the then Mayor-elect for the betterment of Chicago — from concerns about the budget to complaints that recycling is a disgrace to suggestions on how to keep our beaches clean — and worked them into a 72 page report detailing the next steps for the administration. Having participated in the discussion boards and having sent in my own suggestions, I saw that there were several themes the people were concerned about and most of those made it in — the budget, ethics, youth violence, more police, and comprehensive response to the foreclosure crisis — while the specifics, such as one I stumbled across demanding an ordinance to require vet documentation and obedience training certificates for those entering dog parks, didn't quite make it. Maybe next time.
All in all, I think I'm more impressed with the County's efforts in using technology to be more transparent and accessible. The check register is a huge step alone, but kudos to both teams for making the effort.
Here's to keeping it going.