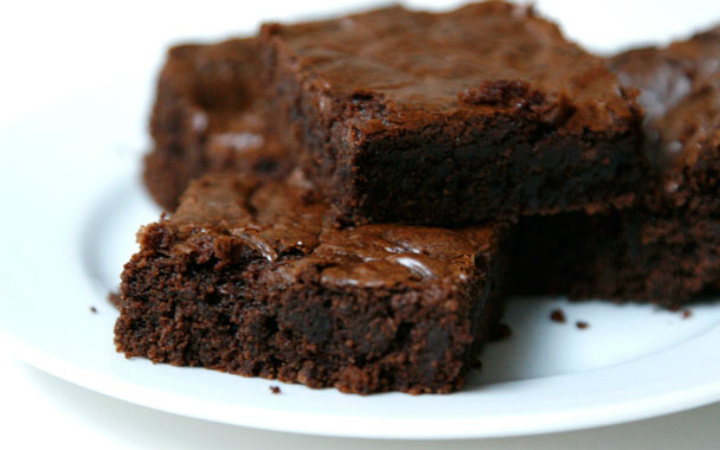 By Cassandra Paré, CEO and Founder of Favoire
When I was asked to write for CEO Sundays, I was thrilled to have the opportunity to tell you our story right alongside some truly great companies. I of course, immediately combed through some of the other CEO posts for inspiration. The phrases "we raised $100k on Kickstarter," we had an army of "angel and institutional investors" we have "200,000 users and a 3 year track record" did not go amiss. I was instantly tempted to "embellish" a bit…. our lean team of 15, our Series A round is going great, we already have 20,000 users….but then I paused. It seems that every time I read a story about a startup it is always one of grandiose success……which is fantastic, but often flatly unrealistic for what constitutes the actual majority of startup businesses. The truth is, most startups do not go viral on Mashable in their first month of existence and surely you know that horrifying little statistic that 90% of startups fail. I wanted to be absolutely honest about our journey, about who we are, about what we are trying to do and about what we've learned in our short journey so far, so here I go.
This is not the over the top success story of a startup that started in a Wix lounge and went on to a $1 Billion valuation. What this IS, is the story of a 1.5 MONTH old startup that has received a pretty nice response so far, is eager and excited to grow and is trying to navigate it's way through this crazy startup space, through the sea of push and pull advice – "raise money", "don't raise money", "join an accelerator", "NEVER join an accelerator", "change your logo", "keep it"….. you get the idea. This is the story that is probably closer to the reality of your startup than to those precious few who make you wonder what on earth is wrong with your PR team.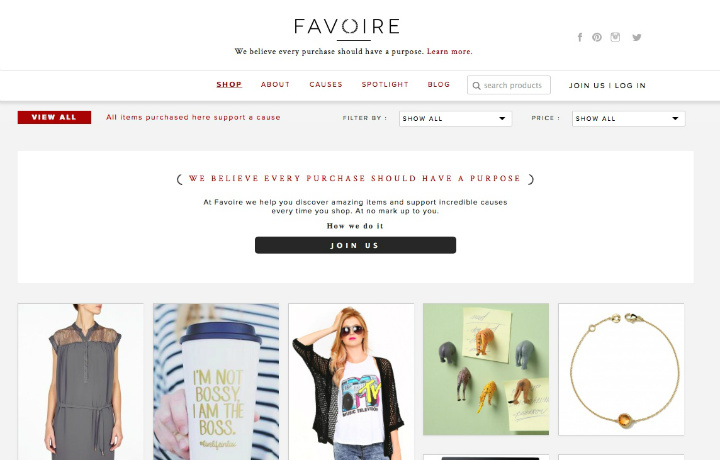 I am the CEO and Founder of Favoire, a social shopping site that helps you transform products from your favorite retailers into products that give back. At no mark up to you. It's a bit like if every product could have the give back power of a Tom's shoe and really, that's kind of where our journey began. I was (and still am) a proud supporter of socially conscious products, I own a pair of Tom's, a Feed bag and regularly buy fair trade products. But one day I was pretty tapped out – I wanted to buy from brands that gave back, but what I needed was a pair of stylish black heels that I could wear to work not another pair of fabric flats. When I looked for a socially conscious brand that made those, I realized that I couldn't find any. Most of the socially conscious products had a pretty similar style theme….. neutral colors, a wee bit frumpy, usually some kind of hemp-esque element and often, frankly, a bit expensive. I wondered, in this digital age where almost anything was possible, why wasn't there some way that I could transform the products that I wanted to buy into products that gave back? That would mean that even stylish, trendy things I wanted to wear, could have a purpose when purchased.
At the time I was working at Citigroup in Digital Marketing where I focused on two platforms aimed at really making a difference for women. Those platforms, where Citigroup's Women & Co. and Connect: Professional Women's Network. It was always important to me that my work felt meaningful, that it gave back in some way, but working for Citi was particularly exciting because it opened my eyes to the reality that brands also really cared about giving back and the potential that held for creating more impact in the world. The fact that brands were building social missions into their bottom line signaled a new buying movement that felt long term. Given the pressure that Millennial were putting on brands to give back, I knew that there was some way to make my vision a reality.
Odd as it may be, on my long subway ride from Brooklyn to Long Island City where my job at Citigroup took me, I would get some of my best thinking done. Perhaps it was that triumphant feeling of well earned solitude in scoring a seat during rush hour or the inspiration of 1,000 different energies crammed in one tiny train car, I'm not sure…whatever it was, I always busted out some of my best ideas riding the F line. I realized that so many brands were eager to support great social impact initiatives but often failed to articulate their stories. I wanted to create a platform that showed what initiatives we were supporting in a transparent way that actually demonstrated a holistic process, i.e. looping in the founders of these non-profits, philanthropic fashion influencers and creating measurable goals that we could crowd fund for instead of an open-ended ask to raise money "for charity." The foundation for Favoire was born.
Since the moment I decided to really "go for it" and to where we are now, about 1.5 months post- soft launch, I have learned more than I ever thought possible. The startup world is manic, voracious, thrilling and full of absolutely indispensable lessons. I wanted to share the 5 that I thought most influential on our own journey which is still very much continuing.
1.) Do not go it alone. Find people and fast
When I first decided to build Favoire, I had an idea and I felt also, the background to create it. I didn't really know anyone who wanted to take the plunge with me, so I just decided to go for it myself. While I did bring people in later on, in hindsight I should have done so much sooner. Not having a technical background, but negotiating technical contracts was certainly the first mistake I made. Eventually I brought on an incredible technical Co-Founder, Phil Derasmo, but had I done so sooner, I could have avoided a lot of headaches and at one point, almost near failure. Thank God for lucky breaks and great recommendations.
2.) Never stop moving
This is actually a lesson I learned a little bit during my time at Citigroup, but multiply it by a million in the startup world. The importance of networking and putting yourself out there is immeasurable. Lowering your head and working away is wonderful, but at the end of the day, the cold hard truth is that you are only as strong as your network. Go to every event you can find, even the really weird ones. Sometimes nothing will come of it, sometimes everything will come of it. I have gone to what feels like hundreds of events and just blindly introduced myself to people who, on paper, seemed like had no connection to what I was doing. I still followed up with them for coffees, phone calls, etc. The people who I thought could do nothing for us, often times pulled incredible things out of their hats. Someone often knows someone who is happy to introduce you to THE one.
3.) Be a giver. Not JUST a taker
I credit this one to Miki Agrawal, whose book Do Cool Sh*t was a real inspiration in my decision to leave Citigroup. One thing that she recommends profusely is to find a way that you can help someone whose help you are seeking rather than just to seek help. If that sounds like a line from Lord of the Rings, look at it like this: people are incredibly busy and if you go around just asking people "to pick their brains" there is zero incentive for them to meet with you. Why should they take time out of their extremely busy day to give you advice? Advice they might even charge for. Instead, figure out a way that you can be of use to them – perhaps you are a writer and can pitch their product to your editors, perhaps you have your own rolodex of influential contacts that you can introduce them to…. Whatever it is… figure it out and approach them with the angle of providing some value to them. I have found this one to work nearly 100% of the time.
4.) Keep At it
This one was and is still sometimes, incredibly hard for me to accept because it feels like a rookie dating mistake, but I have found that when you pursue someone, often times, four or five emails or calls may finally do the trick. At first I was really embarrassed to send that fourth email asking for that follow up phone call, but when on the seventh email it finally resulted in exactly the connection I needed to make, it felt finally worth it. I have found this to be the case many times. To be clear, I am talking about pursuing people when you do not get a response. If someone asks you to go away, well then by all means, drop the pursuit and don't take it personally.
5.) Stand Out
My last piece of advice has to do with making sure that people remember you. You will come across so many different people at so many different times and even if you thoroughly impress people, there is still a chance that they will forget you. In addition to of course, doing all the requisite research and thoroughly preparing my pitch I came up with a "bake it till you make it strategy." I don't like to brag, but I secretly possess one of the world's most insane brownie recipes and I have been baking them for people who have been so kind to meet with me. When I run into them, my startup or face may fail to ignite their memory, but a mere "I am the one who baked you the brownies" flips the switch on every time. So you may not be a baker… what's your hidden talent? The key is, just find a way to stand out.