Watching and sharing videos on the Internet has always been a very static process. Although popular platforms like YouTube try to recommend new videos based on a user's viewing, search and upload history,  there's one missing ingredient to their curation method: organic recommendations.
Florida-based Brevidy, a video social network that recently launched a beautiful new redesign, hopes to leverage organic discovery by creating a community of users who love finding, sharing, and interacting with video content in a new way.
THE GIST: Brevidy is a video social network that allows you to share the fleeting moments of your life and the things that interest you the most with those around you. Brevidy's platform allows users to experience organic video recommendations and interact with video content using a quirky badge system.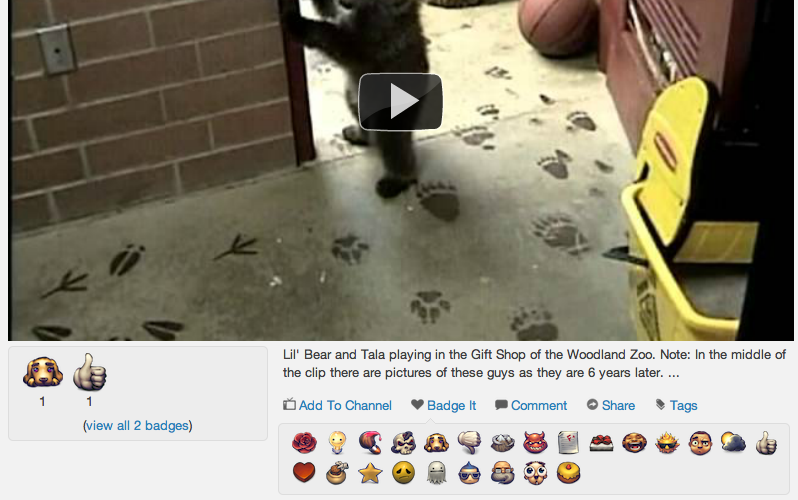 FOUNDERS:
Rob Phillips: 28 yrs old, UI design / frontend & backend development
Hussain Frosh: 32 yrs old, mobile / desktop development
Kenny DiFiore: 26 yrs old, mobile / desktop development
WHEN/WHERE: "We initially started work on Brevidy in January 2011 and rolled out a bare-bones prototype in June 2011. We are launching an open beta right now with a fresh redesign after user testing and design iteration for the past few months. We are currently located in Melbourne, Florida but we look forward to moving closer to the start-up scene sometime soon."
RAISING/FUNDING: "Self-funded at the moment, but interested in VC funding."
BACKSTORY / INSPIRATION: "Brevidy came to be out of our frustration with not being able to share videos with people that were as passionate about videos as we were. YouTube and Vimeo are great for watching videos, but they feel so lonely to use and it's difficult to share private videos on there. Facebook doesn't feel lonely, but videos get lost under the clutter of status updates and photos so the user experience is really poor. We wanted to create a product that connected people and let them easily share public or private videos with the people around them, whether that be a close friend, family member or just someone you share an interest with."
PHILOSOPHY: "We want to use videos to connect people. We want to allow you to share an intimate moment with your family, a laugh with your friends, or a window into your life with someone halfway around the world. We want to put the soul back into video."
CUSTOMERS: "We want mom's to share embarrassing home videos, friends to share fun nights out, and everyone to share the things that interest them with the world. The majority of people record video, whether on their phone or camera/camcorder, but very few people feel comfortable sharing them. The reason being is that video is a much more personal (and inherently difficult) medium as opposed to a photo, where it's just a snapshot in time so it's easy to look good for one instant. We want to break down those barriers and allow people to share videos privately but also have the option of sharing them with the world."
COMPETITION: Normally when I find a hilarious video, a breaking news story, or a new music video I discover it organically from recommendations by my friends. Shelby.tv, a video discovery platform, collects videos being shared by friends on Twitter, Facebook, and Tumblr and displays them in an intuitive user interface. While Brevity encourages video discovery by allowing users to willingly share their favorite videos, Shelby.tv creates one less step in the process by making it automatic. I think it's important to note that while Shelby.tv pulls from a user's social stream, those recommendations were not made specifically for me. The beauty of Brevidy is the community of video lovers who enjoy discovering and sharing new content specifically for their followers on Brevidy. 
ROB'S TAKE ON COMPETITION:"There are many indirect competitors to Brevidy in the online video space, all of whom have adopted "video as nothing but a consumable product" models. We think taking that approach is flawed and misses the opportunity to use a powerful medium like video to connect people together. We want to provide a means for people to watch the important moments of their family and friends' lives while also being able to watch videos posted by people that share the same interests. We want to enable people to easily share videos with exactly who they want to share them with by providing intuitive privacy and video distribution controls. We want to fix what we see as a broken system and bring people back into the online video equation."
ROB'S  FAVORITE INTERNET VIDEO OF ALL TIME: "It would have to be "The Last Lecture" by Randy Pausch. It's all about pursuing your dreams in life. One of my favorite quotes relating to this is: "Life isn't about finding yourself. Life is about creating yourself." — George Bernard Shaw."
BREVIDY'S PLAN FOR THE NEXT 6 MONTHS: "Our plan is to continue improving the user experience around video and make it easier than ever to upload and share videos. We also want to start focusing on the mobile experience since it's how many people watch and record videos these days."
ROB'S ADVICE TO OTHER ENTREPRENEURS: "Never stop believing that you can achieve whatever it is you set out to achieve. A lot of days it seems like you are up against an impossible task or you have such a long road ahead of you still, but keep pushing your comfort zone, keep iterating on your ideas, and keep brushing off failure until you succeed. To quote one of my favorite videos: "When you want to succeed as bad as you want to breathe, then you'll be successful.""
SCREENSHOTS: