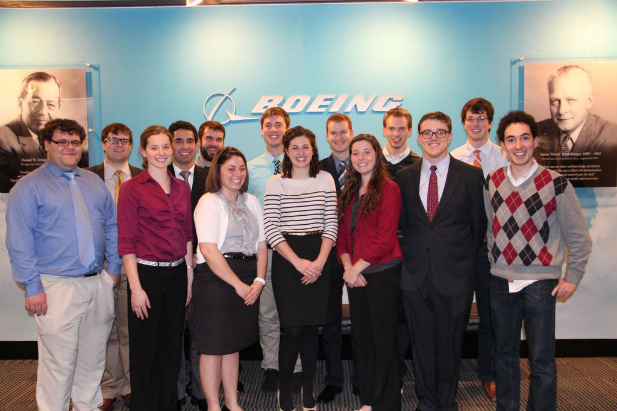 On January 23, 2013, Boeing honored the iScholars (innovation scholars) from Parks College of Engineering, Aviation and Technology for their engineering leadership and entrepreneurial pursuits.
The event held at Boeing, kicked off with a presentation by the vice president of marketing and a discussion panel that included senior entrepreneurial leaders from Boeing. A reception where iScholars were able to have one-on-one time with the Boeing employees concluded the evening.
"The Boeing event was a successful unforgettable experience," said iScholar Brenden Graczak. "Getting to talk to thought leaders that championed and implemented innovation in Boeing motivated me to want to be in that environment when I am a professional."
iScholars, a student-led initiative, engage in different roles and activities such as community outreach, innovation leadership and design projects. Students are required to work 10 hours per week to promote the entrepreneurial mindset across campus.
The iScholars program is funded by the Kern Entrepreneurship Education Network (KEEN). KEEN is a collaboration of 19 universities around the U.S. that strive to instill an entrepreneurial mindset in undergraduate engineering students. KEEN's mission is to graduate engineers who will contribute to business success; and in doing so, transform the American workforce.
For more information on the iScholars Program, visit parks.slu.edu/ischolars