Although BiteHunter has been available in Apple's App Store for about a year, the deal searching app has only recently come into its own with a new simplified facelift.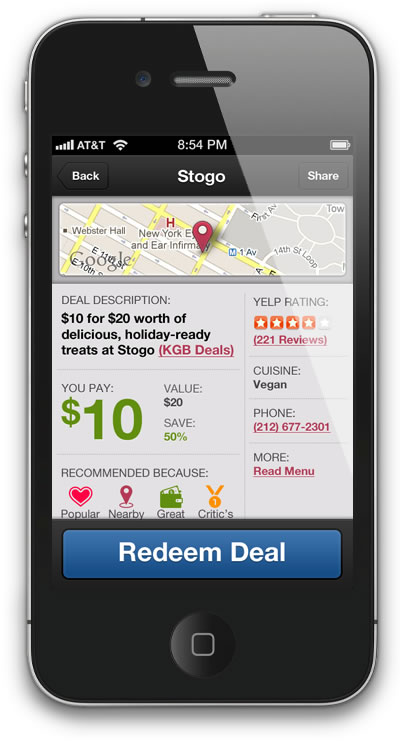 BiteHunter enables hungry people to search daily deals sites like Groupon, LivingSocial, Yelp Deals, and other sources from across the web in a single location. All the resources are compiled into a visual list, which can be easily organized by moving a restaurant type slider at the bottom of the screen. Results can be organized into a photo grid, information list, or map of all the daily deals available in your area.
One of the biggest improvements to BiteHunter in the 2.0 update is the ability to complete a deal purchase within the app. Previously, users had to switch between BiteHunter and another app to finish the transaction – a painpoint the developers knew they had to eliminate in the latest iteration.
"After testing, investigating and digesting user feedback, we've given our app a facelift to reflect what is most important to our market," said Gil Harel, CEO and co-founder of BiteHunter. "In addition to revamping our interface for a more visual experience, we've also redesigned the app to help consumers locate and buy deals using BiteBuy without bouncing between apps to complete transactions. We developed this feature to make the deal purchase process as easy as possible for users."
BiteHunter has seen a 500 percent growth in users after its recent 2.0 launch. The company says it expects to have nearly half a million users by the end of this year.
If you're tired of slogging through the endless daily deals to find the one you're looking for, don't hesitate to give BiteHunter a shot. Between it's wonderfully simple UI, and unbeatable price of free, BiteHunter may just find a permanent place on your home screen.