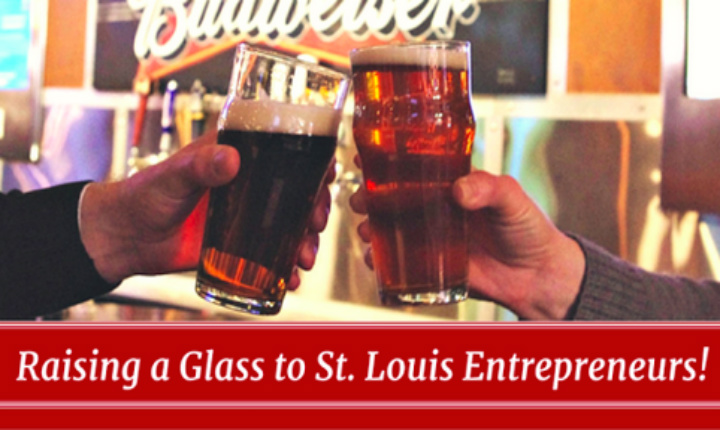 By Mark Sutherland
Back in my corporate communication days the worst feeling in the world was when a meeting was dropped on my calendar, for 4pm on a Friday afternoon. I'm not sure if it was the sign of the meeting organizer wanting to look good to the boss by showing a level of commitment bordering on narcissism, or simply the fact that the only time on all our calendars that was not already taken by another meeting was at that time.
However, Ballpark Village, one of the coolest places to be in St. Louis, both on Cardinal game days, and on days when other sports and events take center stage, has scheduled a Friday meeting. And we are all going to want to be at this one.
This Friday, April 24, Ballpark Village is launching the first of the Accelerate St. Louis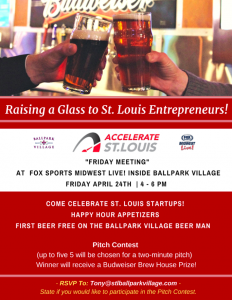 "Friday Meetings" designed for those in the startup ecosystem to network, pitch and enjoy free food and drink. From 4-6pm in FOX Sports Midwest!, entrepreneurs, venture capitalists, support organizations and others will gather to enjoy everything that Ballpark Village has to offer. Complimentary appetizers will be served, and Tony the Beer Man will buy everyone in attendance a beer.
In addition to great networking, five startups will have the opportunity to make their best pitch in front of all the attendees. The winner will receive a Ballpark Village prize, but all five promote their endeavors to others in the startup ecosystem.
RSVPs are needed, but that part is simple. Just send a note to [email protected] with how many people are coming, and also let Tony the Beer Man know if you want to pitch your wares for a chance to win and, well, win.
You can get more information about the best Friday Meeting ever over at the Accelerate St. Louis website at http://acceleratestlouis.org/events/accelerate-st-louis-friday-meeting-at-ballpark-village/.
We'll see you at the ballpark!