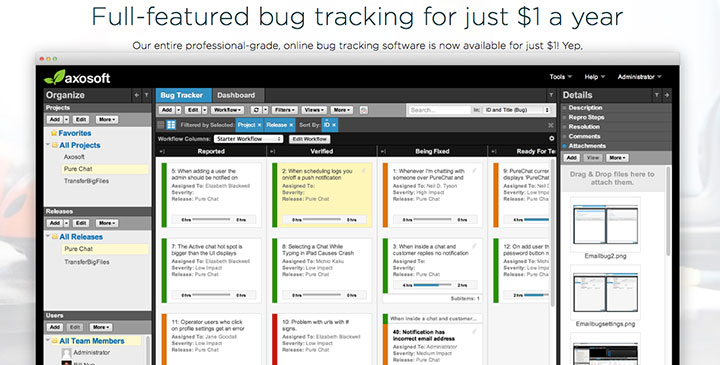 While $10,000 probably doesn't sound like a lot in the grand scheme of things, there are likely lots of ways that you could put that money to good use, right? After all, every little bit helps when you're trying to get your business off the ground. It's being offered by Axosoft, a company that develops software to help software teams build their products on time and on budget.
The idea came about at one of their strategy meetings.  Axosoft's flagship product is called Axosoft Scrum, but they also offer a bug tracker product.  Typically, this bug tracker is $70 per user, per month.  "Thought 'hey, let's make this free because we're not about bug tracking,'" said Hamid Shojaee, Axosoft's CEO.  "It's an essential need for developers, but let's make it free and that way we get exposure from developers using the bug tracker product, and when they're ready for scrum we can show them the scrum tools.  That's how it came about."
However, offering a free tool can get out of control quite quickly.  Instead of having to deal with bogus accounts, they decided to charge $1 for the year to deter that from happening.  "We're not doing this for the $1, so let's do something interesting with the $1," said Shojaee on their thought process.  "Why don't we help new software startups with this money, and that's exactly what we're doing."
They're calling it the Axosoft Startup Grant Program, and it's open to software teams that have been established for less than two years, have fewer than 10 people in their company, and are based in the U.S.  That's the only hard requirements.  Shojaee admits that they don't necessarily have any selection criteria at the moment either, so you might as well give it a shot and sign up.  You could be exactly the kind of team to catch their eye.
It's a short form where they ask you to describe your company in 140 characters, why you should receive the grant, and an executive summary if you have one.  You can apply by clicking here.
In addition to the $10,000 grant, you'll also receive mentoring from Hamid Shojaee, which might be worth more than the grant.  Axosoft has been around for a few years now, and they are always looking for ways to share their knowledge.  They even offer free lunches on Friday to the startup community, providing access to resources, experts and partners.  (And did we mention free food?)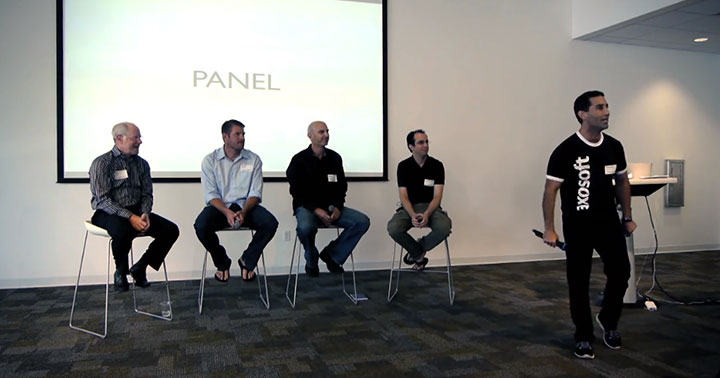 Since we all can't attend these free lunches at their offices in Scottsdale, Arizona, Shojaee shared one small snippet of advice.
"There's a lot of advice I give entrepreneurs all the time.  You have to take risks to have rewards.  It's ok to be wrong because you can correct your mistakes," he said.  "Then, there are the not so obvious ones.  One in particular in the software world, because cost of distribution is very little, you can do a lot of experimentation with pricing.  I'd highly recommend you embrace that experimentation in the software industry."
In addition to providing software to help teams embrace and implement scrum at their organization, they also offer free training online.  On Monday, they launched www.ScrumHub.com, which offers videos and documents detailing ways for teams to be more agile.
While scrum is not necessarily a new thing, it does appear to be quite popular as of late because of the success software development teams are having with it.  Shojaee explained, "You can produce something in a 30-day window as proof of concept, and you can iterate through various versions of it until you get it right.  It's the most successful way to build software products.  That's why scrum is so popular.  Teams that embrace agile and scrum in particular are highly effective, and they can deliver better products in a shorter amount of time."
If you're not sure what scrum is, it's essentially best practices for creating software in a somewhat less organized manner, working in small incremental chunks that's more iterative.  "It's best practices of agile techniques that doesn't require detailed analysis, design and requirements gathering before you produce anything," Shojaee said.
If that still doesn't make sense, Axosoft put together a handy video to explain it better.  The original has been viewed over a million times and is sure to help you see exactly why this movement is becoming so popular. See their updated version below.