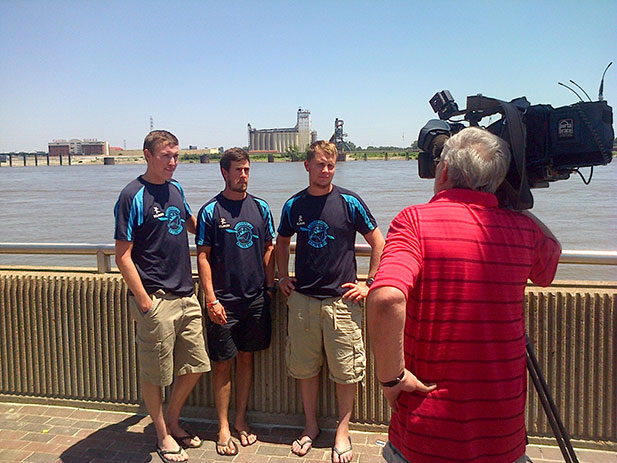 In the UK, when someone graduates from university, it is common for him or her to take a "gap year." This year, for some, is a time for some to see the world, and embark on some high adventures overseas before settling down to pursue their chosen career.
But for an increasing number of young people from the British Isles, the gap year is becoming a time to do something that is not just an adventure, but also one that makes a difference in the lives of others in the UK and around the world. Both the Duke of Cambridge and Prince Harry did this with their gap years, devoting time to support the charities they believed in before signing up to serve in Her Majesty's Armed Forces and risk their lives to serve others and their country.
The Duke of Cambridge, or Prince William as he was known then, spent his gap year in the UK, Belize and Chile. In the UK, he worked on a farm. In Chile, he volunteered in a remote part of the country building walkways and teaching English in a mountain village. Prince Harry went to Australia and Africa on his gap year. While in Africa, he spent time in Lesotho working in an orphanage for children with AIDS and helping build a clinic and a road bridge.
Today, both Royals are still involved in charity work, including Help for Heroes. "When Harry and I, like so many other young men and women, first donned our Help for Heroes wristbands, only six years ago, not even we, as servicemen, could have guessed the scale of the challenges ahead," the Duke of Cambridge said in May. "We must not let the wounded men and women of our armed forces down."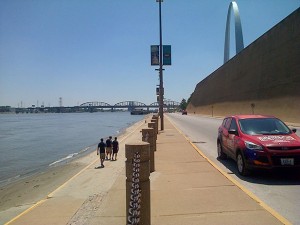 And this July, St. Louis played host to three 22-year-old lads from the UK who, despite a lack of Royal pedigree, left a royal impression on the people of St. Louis with their gap year endeavors in support of this same charity.
Matthew Fraser, Harry Hogg and Sam Norman are kayaking the Mississippi, from the source at Lake Itasca to the Gulf of Mexico. The 2,400-mile journey is "a big adventure," according to Fraser, "to raise some money for Help for Heroes, which is our military charity back home." Help for Heroes is similar to the US' Wounded Warriors Project and is devoted to assisting soldiers who have experienced traumatic injury in the line of duty, and help them reestablish their lives.
The trio are school friends from the town of Woodbridge, England, located near Ipswich and approximately 100 miles to the north-east of London. The expedition idea, first hoisted in a local pub during their last year in university, is one that has taken two years of preparation and training. And now, each day on the river, sometimes beginning at 5am and ending at 11pm, sees daily determination to keep on paddling for a great cause because the heroes in uniform deserve nothing less.
"These are some of the fittest, most motivated 19-year-olds you'll ever see," Norman said of the soldiers the charity assists. "And just because he was wounded in a road-side bomb, doesn't stop him from being one of the fittest, most-motivated people you'll ever see. The charity is all about getting these guys back up and running to a stage where they can really live the rest of their lives."
So far they have been able to raise more than $20,000 for Help for Heroes.
Day 35 of arm-killing kayaking saw the trio pulling into St. Louis, Missouri, where they were hosted in style by the generosity of the Embassy Suites St. Louis Downtown hotel, and Pi Pizza. They also visited with KTRS AM 550, Y98, KMOX AM 1120, 97.1 FM Talk, The John and Kane Show on Indio Radio, and NBC's Newschannel 5.
"St. Louis marked the halfway point for our trip and we couldn't have asked for a better city," the team said. "It was crazy going from the muddy river banks of the Mississippi to the city, darting from one interview to the next was amazing fun. None of us have ever experienced anything like this before, and St. Louis proved that just when we think this trip can't get any better, guess what it does!"
The team anticipates arriving at the Gulf of Mexico sometime in August, stopping at cities and towns along the way, sleeping most nights on the riverbank in hammocks. They hope to have raised $30,000 for Help for Heroes by the time they reach New Orleans and to have charted a strong course into their future endeavors.
"We are so very proud of what the guys are doing, both in terms of the physical challenge and their fundraising for Help for Heroes," Malcolm Norman, father of Sam Norman, said. "They have been blown away by the generosity and support from people along the river."
Norman is currently serving in the British Army reserves, and has been working in the London startup scene. When he returns to the UK, he plans on heading to the Royal Military Academy Sandhurst to become a full-time British Army officer. Hogg and Fraser are still deciding their next steps. But with plenty of time on the Mississippi to discuss the future, and the sheer determination and character exhibited by the team, their future looks bright indeed.
You can follow the expedition (and donate to Help for Heroes) on their website at www.themississippichallenge2013.weebly.com, on Facebook, and on Twitter at www.twitter.com/Mississippi2013.
You can view all of their St. Louis media coverage at the links below: