Zealous Good, a Chicago-based charity donation startup, has launched its new iPhone app today that makes donating your unwanted items easier than ever. Since 2011, Zealous Good has provided a platform giving anyone the chance to get rid of the items they no longer need and make sure that their goods find a home through the right nonprofit channels.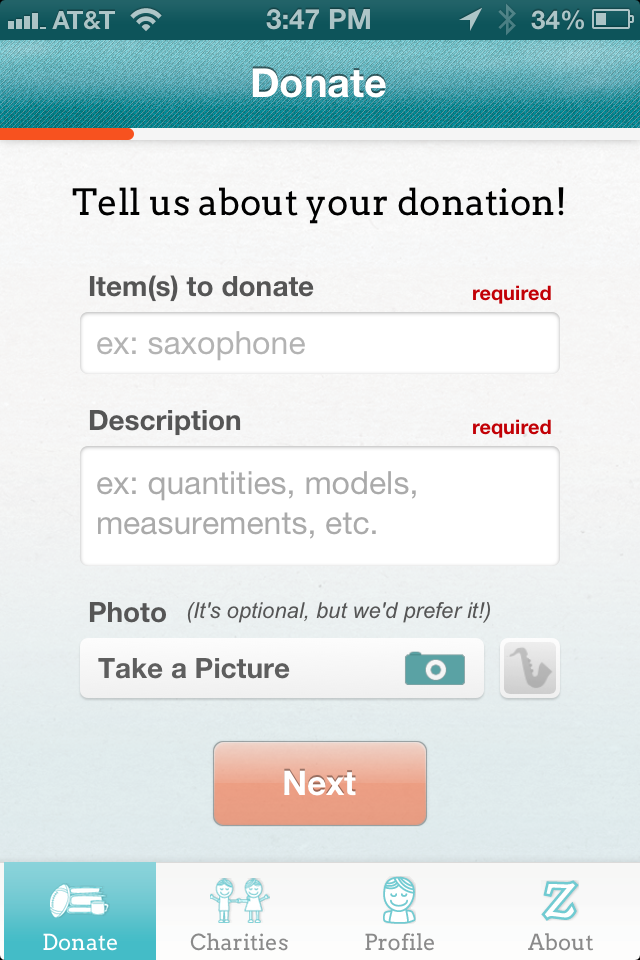 The new Zealous Good app works similarly to the web platform, though the process has been streamlined to make donating items a snap. A user can take a picture of the item they're looking to donate and specify whether they'd like the item to be picked up or go drop it off themselves at the appropriate nonprofit location — a simple two step process that is sure to bring in a surge of new donations at local charities this holiday season. To date, Zealous Good has grown to work with more than 180 Chicago nonprofits and expects to surpass the $500,000 donation value mark by the end of December.
Founder and CEO Brittany Graunke said the startup's main objective when developing the new app was to make the donation process simple enough that there was no barrier for users who might have extra items laying around the house. "If somebody has something they don't want to use anymore, it's really easy to not do anything with it," said Graunke. "We have to make it so easy to the point where it won't be a challenge when somebody goes to donate something."
The Zealous Good team worked with FadingRed, a Chicago-based app developer, to create the simplified mobile platform. In addition to enabling users to set up a donation by taking a picture of the item on their smartphone, the app help users become promoters of the platform with integrated social features, allowing them to share their charitable efforts with friends directly through their mobile device.
The idea of user promotion was one of many Graunke has learned as a mentee of GiveForward, a fellow Chicago charitable startup that helps families in need crowdfund emergency expenses such as medical bills and home repairs. Graunke said that the mentorship of GiveForward founders Desiree Vargas Wrigley and Ethan Austin has helped Zealous Good strike a balance between its charitable impact and maintaining a sustainable business model as the company continues to grow.
According to Graunke, the company is planning to begin expanding into new markets starting next year. Zealous Good will also introduce a partnership with Task Rabbit, giving users the chance to have their items picked up even if the nonprofit doesn't offer a pickup service, and begin offering a two day guarantee on the delivery of items to participating organizations.
The launch of the new donation app coincides with Zealous Goods' Week of Giving, where one lucky donor will be chosen each day to receive a giftcard from one of seven local startups as a reward for their charitable contribution. The Zealous Good app is currently available for free on the iTunes App Store.