Researchers at the California NanoSystems Institute at UCLA have made a significant breakthrough in the future application of solar cells this week. The university has successfully developed a near-transparent photovoltaic cell that will allow windows to become the next surface to absorb solar energy.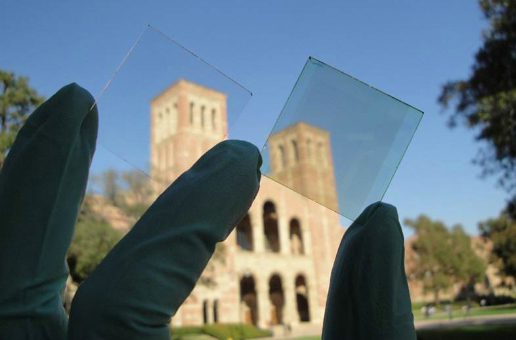 UCLA researchers created the transparent polymer solar cells by using solution processing, an extremely cost effective method of producing highly tailored photovoltaic cells with cheaper chemicals and at lower temperatures. According to the university, the new cells have been produced to block out mostly infrared light, letting in about 70 percent of light visible to the human eye. While losing 30 percent of incoming sunlight will inevitably lead to dimmer indoor spaces, it will also have the benefit of cooling things down during hotter summer months.
Researchers believe that the new cell will have a wide range of applications due to their inexpensive and durable makeup. Mobile devices like smartphones and tablets could potentially use the technology to turn their screens and cases into photovoltaic charging cells, extending their battery life indefinitely as long as sunlight is available. Transparent cells could even make their way into the windows of vehicles, providing a small but supplemental power system to the car battery or improving the travel distances of electric vehicles.
The ability to cover windows in solar cells will provide large-scale construction projects with entirely new opportunities to make their buildings more energy efficient and environmentally friendly. Instead of relying solely on rooftops for solar panels, both homes and skyscrapers will be able to dedicate every outdoor pane of glass to soaking up the sun's rays.
Recently researchers at the California NanoSystems Institute developed the "world's fastest camera," which is being used for early and highly accurate cancer detection. The record-breaking camera is capable of capturing 36.7 million frames per second, about 1.5 million times the frame rate of an average motion picture camera.
Image credit: UCLA