This year's Big Bang! Competition at the UC Davis Graduate School of Management announced its four big winners on Thursday. The creators of two new green energy concepts, a vending machine for toddlers, and a cancer treatment drug took home prize money at the annual competition for entrepreneurs.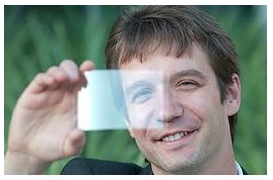 A thin, efficient solar conducting film created by Jon Servaites won the $10,000 first prize. According to Servaites' the new conductor is four times more efficient than anything currently on the market. "Just as a faster computer chip can enable a faster computer, a more conductive transparent conductor will enable a higher efficiency solar cell," the creator said in a UC Davis press release. Servaites – a graduate of Northwestern University – has already formed a company behind his winning product called S2E Energy.
The second place prize of $4,500 went to Erica Harris for her Happy Baby vending machine company, which provides important baby supplies like diapers to caretakers on the go. Harris said she got the idea when she encountered a busy mother on the hunt for baby diapers away from home, later seeking advice and investments from family members to direct her business. Happy Baby vending machines have already been installed in four malls throughout Los Angeles.
Additional prizes were given to CuroGen, a company testing a new bladder cancer treatment drug, and Roadwise Technologies, which won the People's Choice Award for its innovative energy technology. Similar to Servaites' conductive film, Roadwise Technologies has devised a pressure and heat sensitive strip to lie under roadways or parking lots, capturing the untapped energy of everyday traffic.
UC Davis' Big Bang! Competition was started a decade ago by faculty members in the Graduate School of Management to help aspiring entrepreneurs realize their dream of running a company. Since November of last year, hopeful teams were preparing and refining their concepts for the February deadline, which culminated in the finalists award ceremony this past week.
Be sure to check out the Big Bang! website to learn more about the annual competition and its previous winners.
All images credit: UC Davis