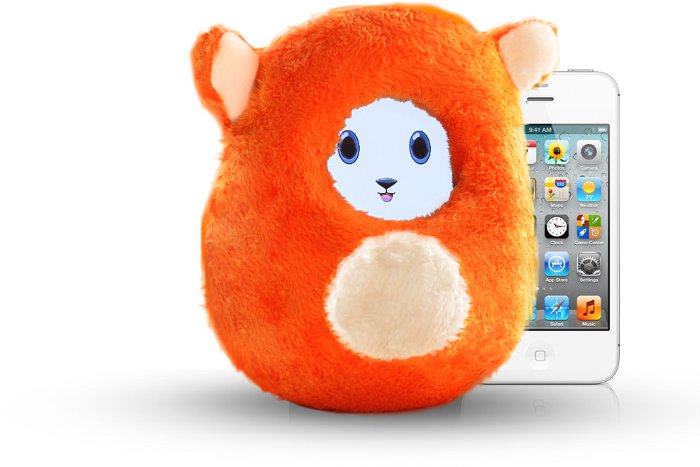 A Boulder-based startup will soon ship a cuddly stuffed animal built to hold an iPhone or iPod, with the display serving as the creature's face and a custom app that interacts and plays games with young children.
"Ubooly is inspired by toys from our youth — we love Teddy Ruxpin, Furby, and Tamagotchi," said founder Carly Gloge. "We had been experimenting with an iPhone as a controller for an animatronic plush, and realized that embedding the device directly would give us access to a ton of cool features."
And does it ever: the app uses the phone's data connection, GPS, and accelerometer to tell stories, respond to physical stimuli and voice commands, and even play pretend with kids. The software will be updated monthly, the designers say, with new activities and content.
The plush toy, which is shaped like an orange blob, with protuberant ears and a white, sheep-like face courtesy of the iPhone, also protects the device inside from impacts during play.
"What do you call a deer with no eyes?" the Ubooly asks a little girl in a demo video.
"Um, I don't know," says the little girl, after consideration.
"I have no eye-deer," responds the toy.
The innovative aspect of the product, obviously, is outsourcing the heavy technical lifting of speech recognition, sound and video to a device that parents might already have. Whether it succeeds will depend on the execution, and whether the tactile aspect will be enough to hold the attention of kids already surrounded by digital entertainment platforms.
Another potential challenge — or strength, depending on perspective — stems from the same audacious mixture of cuddly cuteness and digital sheen. It seems likely that many children will swiftly become more interested in stripping the handset out of its shell, physically or conceptually, to figure out what makes it tick. In some cases, perhaps, launching them in a trajectory toward programming or design.
The company, which initially raised funds on Kickstarter, recently received support from the Detroit-based Ludlow Ventures, which called the toy "so darn cute."
"We've got our eye on Detroit as another city that's figuring out startup culture," Gloge said.
The first Ubooly production run is scheduled to be completed on July 30, and the product will ship soon after that.