Travel aggregate startup Traxo has made a number of major improvements since we last talked with CEO and founder Andres Fabris. Apart from implementing a sleek new design, the Dallas-based travel service has moved from being a robust traveler information keeper to a full fledged globetrotting social network.
"It used to be agents, but now no one has the traveler's back," admitted Fabris. Websites like TripIt and other online travel agencies have been working to improve the process, but Traxo is the only one that does it all for free.
Traxo's goal, first and foremost, is to keep the often complex web of travel information linked in one centralized service. When you begin your Traxo account you'll be presented with a list of airlines, hotels, travel websites, and car rental services, allowing you to pick which company among each category you're already using. On the following screen Traxo has you input your username and password for each website you chose — a one time request that will solve your travel headaches forever.
After you've linked your various travel accounts from across the web, Traxo will keep all your information up-to-date, importing new trips as you book them, even displaying your accumulated points and member statuses across all services. To-date Traxo supports over 160 of the most popular airlines, hotels, and car rental companies online.
Traxo has made a great deal of headway in its drive to create a social travel network, where your account not only keeps your information up-to-date, but proudly displays all of your travel achievements. The company has gamified travel by awarding badges for things like visiting continents, traveling to each of the United States, taking red eye flights, and much more. Users can compare their travel stats with their network of friends, and are even ranked on a leaderboard based on the company's calculated "Travel Score."
This score is an accumulation of all your travel accomplishments, created by a complex algorithm that factors in all aspects of your globetrotting adventures like the length of your trips, how recently you've traveled, and overall miles. To make the process of starting a travel profile less daunting, Traxo will even import your previous trips, allowing you to arrive at your natural travel score much more quickly.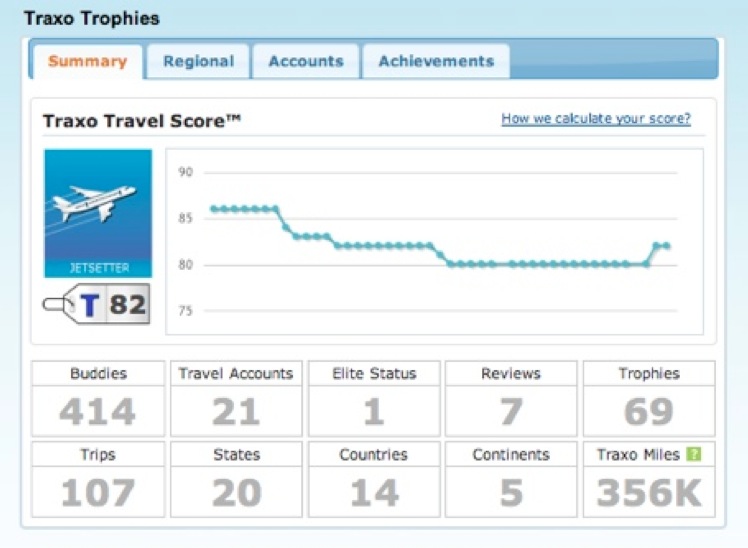 More important than feelings of personal accomplishment, your travel score will gain you access to various exclusive deals through the service, including free airfare, luggage, car rentals, or travel insurance. Fabris said these exclusive offers work to provide users with an incentive to link their information through Traxo, and give companies the opportunity to reach out to a highly targeted section of their clients.
In addition to sharing stats among your network, Traxo will also notify you when you're traveling to the same destination as a friend, or if a friend is passing through your home city. One new feature the company added is the ability to find travel experts among your friends for specific destinations. Wherever you're headed, Traxo will let you find those travelers in your group who have been there the most, giving you the chance to get all the insider tips from the people you trust.
Once your trip is complete, users can look back at a travel journal created by the service, including a map of their trip that features any FourSquare check-ins made in the destination city. Users can add text and pictures at any time to round out the online journal. In the future, Traxo is planning to integrate entertainment services so that users can book restaurant reservations through OpenTable or even buy movie tickets at their planned destination ahead of time.
The CEO said that the company is entering "phase two" of its development, where they were previously "head down on getting the product built," the team is now focusing on scaling the travel network. Traxo recently closed an angel investment round at $1 million, and is currently planning a late stage series A round for sometime in the future. Though Fabris admitted that the service is "scaling nicely" through word-of-mouth and social sharing, the founder said that phase three, monetization, is still down the road for the company.