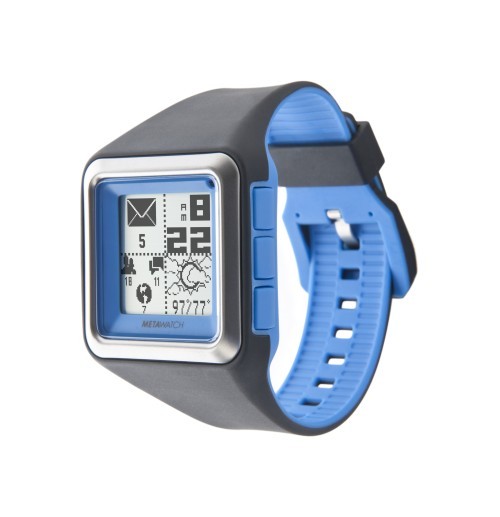 Anyone who missed out on Pebble's wildly successful Kickstarter now has a second chance at securing a smartphone-connected wristwatch. Strata, a new multipurpose Bluetooth watch, began its own run on Kickstarter this past week, and has already exceeded its $100,000 goal.
The Strata allows its wearer to leave the smartphone in their pocket or bag, providing immediate notifications straight to the tiny screen on their wrist. It features a customizable home screen displaying the time, weather, and online friends, among other info. The watch can inform its wearer with immediate notifications of new emails, texts, and updates from social networks. Its creators are aiming to make the device compatible with an array of Android phones, as well as the upcoming release of iOS 6.
The watch has been developed by MetaWatch of Dallas, Texas. Its team is comprised of former members of Fossil's watch technology division, who have been working on Bluetooth enabled wristwatches for the past eight years. With two years already invested in creating the Strata platform, the team is hoping to get the new watch onto the consumer market by the end of September.
Strata's team aims to make the watch as fashionable as it is handy, offering the smart watch in a variety of different colors like olympian blue and optic green. The watch is entirely waterproof and has a 3 axis accelerometer built in. According to the Kickstarter page, the watch will have a battery life of five to seven days.
"This really is the fusion of fashion and technology," said MetaWatch CEO Bill Geiser. "A watch that not only tells time, but it's a watch that saves time."
Like the Pebble, the Strata team is releasing a software development kit to give outside developers an opportunity to come up with entirely new applications for the open source wristwatch. The Strata Kickstarter page shows some simple concept applications, including a surf report app, an optimal sleep time calculator, and a pedometer.
So far it hasn't smashed any Kickstarter records like its Pebble counterpart, which took in a staggering $10 million during its run, but with 20 days left to go it's certainly off to a good start. Backers who pledge $159 get a Strata of their own, and the company has plenty left to go around. If you're still kicking yourself for missing out on the smart watch revolution, don't hesitate to invest in this round.