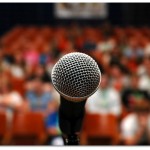 At techli.com we're always looking to put the spotlight on new ideas and start-ups. Getting press is your chance to shine. So make the most out of the interview!
Getting media press can go a long way for your business: attract new customers, get the attention of investors, build a brand, share a story, and much more. And the best part about it: it's free!
Here are some tips on how to rock an interview with the press:
1. Don't be late. The reporter is going to write something about you that will stay online forever. Whether you're meeting in person or talking on the phone, having them wait on you is not the best way to make a first impression. You never want to start off on a bad foot.
2. Prepare for what you're going to say.  What are some things that you want to highlight about your company? What do would like to get across to the readers? Preparing some talking points ahead of time can help you steer the conversation toward what you want to talk about.
3. Don't recite what's already on your website. We want to know more, that's why we're interviewing you. We already read your 'about page,' so give us some insight into something we don't know. Make it more personal.
4. Share something new and unique. It's boring to read the same thing over and over again, so always offer a different angle, an inside scoop, or a new piece of information when talking to the press. This will keep your readers interested and always coming back for more.
5. Provide additional content. Send us some new pictures or videos. Not only does multimedia make the article more appealing, it gives you greater control of the content that is published.
6. Give good quotes. Tell us something funny, interesting, and/or engaging. Yes/no answers or short blurbs makes the content dry. Go deeper. Tell us a story. Give examples. Offer advice. Give personal reflections.
7. Build a relationship. The media can be a powerful tool for your business and press is a way to get your name out there for free. Having strong ties to the press can really be to your advantage as your business develops.
8. Hit it home. Many times, usually at the end of the interview, a writer will ask why your product is important or better than the competition? This is your chance to hit a home run. Be ready for it.
9. Keep us updated on your journey! Having a launch party? Hit a milestone? Got an investment? Expanding to new locations? Let us know!
10. And don't forget … a thank you always goes a long way!
Don't hesitate to contact us to share your story at [email protected].