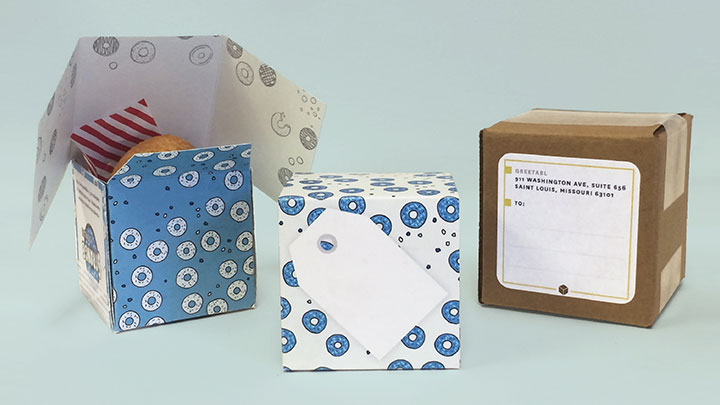 It's National Donut Day, and we have the perfect way for you to celebrate this weird holiday.  Send those special people in your life a donut hole packed inside a cute Greetabl.  It's just $5 per Greetabl, and you're now the coolest person ever. Easy, right?
Greetabl is a St. Louis-based startup that has essentially turned the greeting card into an adorable box, allowing you to "wrap" gift cards and other small treats with a handwritten message.  For this particular promotion, the team at Greetabl partnered with Strange Donuts, a local donut shop that is known for its strange and delicious combinations.  (A line out the door is not uncommon for these donuts!)
They carry all the normal flavors you'd expect along with new creations like Strange Bacon, Campfire, Cookie Crumble and the Gooey Butter Donut.  For this promotion, your friends will receive a blueberry cake donut hole.  Albeit, not the strangest option, but nevertheless scrumptious.
Be the coolest friend in your group for National Donut Day.  Click here to order and use the code #DONUTMAIL at checkout.  Today is the only day you can take advantage of this unique partnership, so get your #DonutMail on now!
 A Few Strange Donuts…
In the spirit of National Donut Day, check out a few "Strange Donuts."  If this doesn't make you want to eat donuts, nothing will.  Just make sure you share the wealth and get donuts for everyone. Follow them on Instagram to see more.