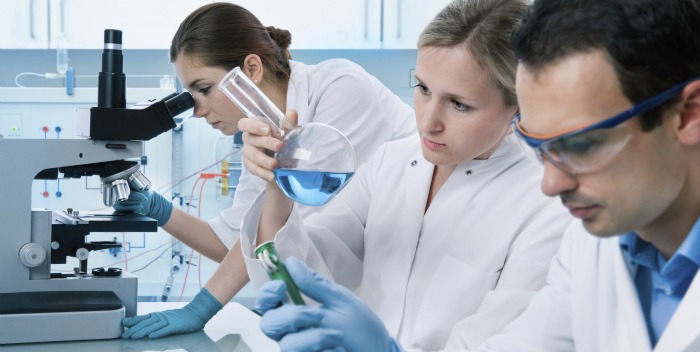 Lupus is a mysterious chronic inflammatory disease that has no cure. Now, researchers in Saint Louis University's division of rheumatology in the department of internal medicine will be one step closer to understanding the disease thanks to a $1.8 million grant from the National Institute of Health. The grant will be dispersed in a $375,000 allotment per year for five years.
Terry Moore, M.D., director of rheumatology and Anil Chauhan, Ph.D., associate professor in the division of rheumatology at SLU will use the funds to further their research that started four years ago. According to Dr. Moore, this grant is significant because currently only about 6 percent of grant proposals result in funds being granted. "Since the Clinton years, grant funding for the sciences has gone down significantly, especially during Bush's presidency. When the economic crash hit, very few grant proposals were funded. We're proud that we received money during a time when funding is low," said Moore. He noted that the $1.8 million amount is average for grant like this.
The grant is based on a unique capture technology for isolation of immune complexes developed by Chauhan. The money will be used to evaluate the role of T-cells and immune complexes in the lupus disease. Specifically, the researchers will study how T-cells generate inflammatory responses. A T-cell is a type of white blood cell that protects the body's immune system against infection and abnormal immunologic processes.
"We want to figure out how immune complexes that are present during the disease pathology change the normal T-cells into bad T-cells," said Chauhan, co- principle investigator on this project. "If we can block this development of bad T-cells that are present in lupus patients, we will be able to develop a new therapeutic drug."
"In the last 30 years there has been only one successful new drug for lupus; we need many more alternative therapies. With more specific findings, we may be able to address specific medications with fewer side effects," said Moore.
The division of rheumatology at Saint Louis University's School of Medicine has consistently been ranked in the top 25 of Rheumatology Fellowship Training Programs. The division also boasts the largest rheumatology clinics in the Midwest for children and adolescents and the largest adult clinic in the state of Missouri. Although the division specializes in the care and treatment of people with rheumatoid arthritis, juvenile idiopathic arthritis, and other connective tissue diseases, the divison's primary area of concentration is the study of systemic lupus erythematosus. As the division's director, Dr. Moore was named a top doctor of 2011 by U.S. News.