The open stretches of land. The tumbleweeds. The Great Unknown. Such are the charms of the Great American Road Trip. But not knowing exactly where you're going is not always the best; you may end up in a dusty town with nothing to see. Or perhaps miss an important landmark just a short pass away.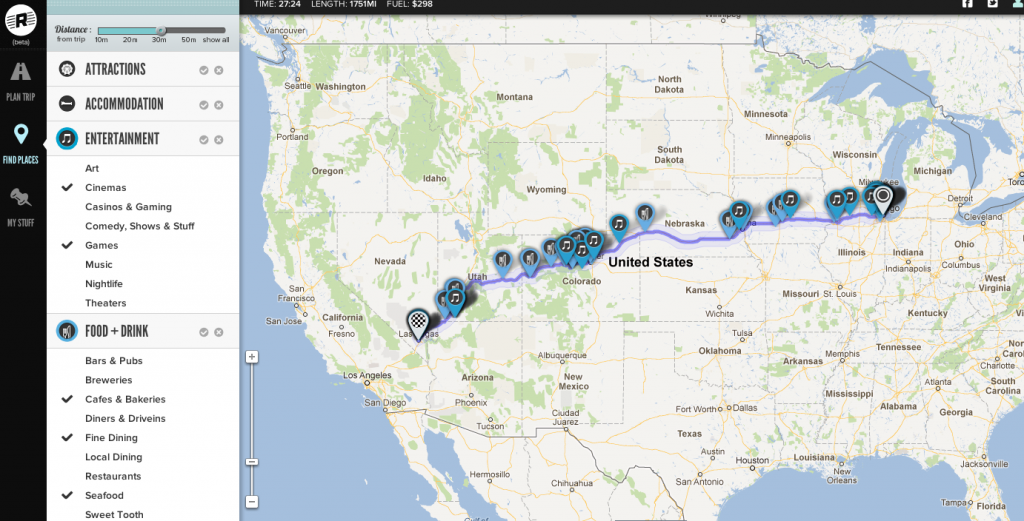 Roadtrippers founder James Fisher learned these hurdles from personal experience: "We used to take a lot of road trips ourselves, sometimes we just pointed the car in one direction and drove, but often we found ourselves in areas where local knowledge is essential to escape the big chains and find interesting, independent places."
The recently launched startup offers a solution for that: a web platform (now in beta) which has a detailed, interest-specific way to get the most out of your next road trip. Using Google Maps, the site tracks your trip distance and fuel cost from A to B.
It then gives you the option to search for things to do along the way within a set mile radius. For example, you can search, among others, for accomodations, entertainment, shopping, and nature attractions such as important forest reserves or an abandoned, out-of-the-way gem. Under the 'accomodations' tab there is even an option for 'offbeat hotels,' and the site seeks to show off America's less mainsteam side.
Launched last July, the Cincinnati-based startup recently managed to raise $250,000 from CincyTech, a public-private seed-stage investor based in Cincinnati, and three investors. With investor confidence in hand, the startup has big dreams for the near future to become a virtual booking destination: "We are building features that will make Roadtrippers the easiest way to book a string of hotels for example. Once our audience is large enough we can offer a host useful services to destinations and destination marketers." It also has its sights on Canada and the United Kingdom in the very near future.
With a database that covers over 25,000 attractions and services (and growing), one could not help but wonder what is the kookiest, most offbeat American attraction the development team has come across.
"I'm pretty fond of The Black Hole in New Mexico, says Fisher. "It's a scientific and military surplus store/pacifist folk art shrine set up by a former Los Alamos A-bomb scientist!"  When asked what startup it admires the most, Fisher turned to the rental business for inspiration. "Not very original, but I'm a huge fan of Airbnb. It's such a simple, smart concept, and it's part of a whole wave of startups that will reshape and democratize commerce. I like it when everyone wins!"