Another Chicago company is making the transition to mobile this week as RentSocial brings its brand new apartment hunting app to the iOS platform. The social web service allows renters to find the right apartments in the best neighborhood for them, all while keeping their friends and family included in the decision-making process.
The entire RentSocial community is about building a database of information on cities, neighborhoods, and even specific apartment buildings. At whatever level, users can share their experiences to help potential transplants or new renters make an informed decision about where they want to be for the next year and beyond.
With the release of the iOS app, apartment shoppers can now have all the vital experience of other RentSocial users in their pocket while they're actively searching for a new place to live. "Our mobile app streamlines our site's best features and offers users several different ways to search for apartments," said RentSocial president and COO Eric Broughton.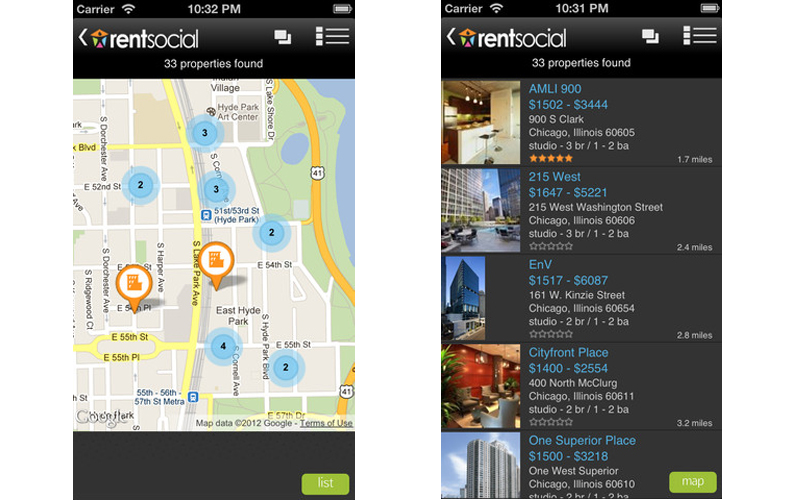 The design of the new app focuses on socializing the apartment rental experience, offering the ability to keep track of friend's activity as well as updates on the properties added to the "keeper" list. You can peruse available apartments using either a map or standard search form, and the new app will even show what's available in your current location if you feel like starting a spontaneous hunt.
Though the web app works rather well, I did experience some problems finding apartments in the Chicago area using the mobile app, which at the moment will only display a few dozen apartments around the loop and southside areas. Hopefully whatever is causing the bug will be worked out over the next few days following the launch.
Head over to RentSocial to get a feel for the social apartment searching service, or download the iOS version for free on the App Store — no word yet on when Android users will see the apartment hunting app make it to Google Play.