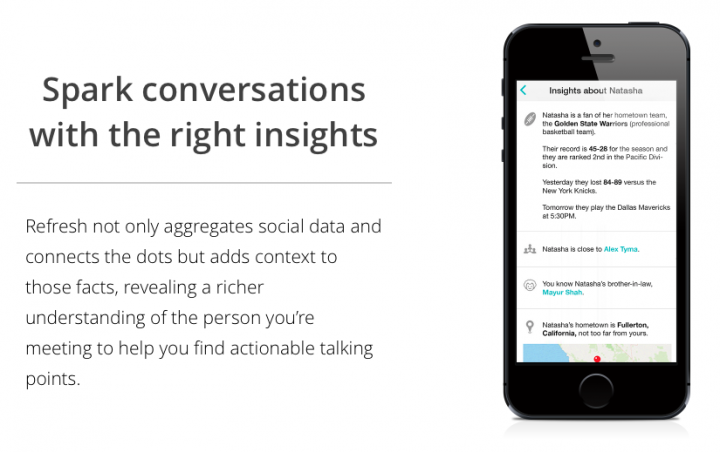 With so many apps available, it can be overwhelming to know which ones you need and which ones you really don't.  Refresh, which launched out of its beta program a week and a half ago, is an app that you really must download.
It's an app that works with your calendar and social media to create dossiers on the people you are meeting.  "We're trying to reveal the common ground and shared understanding between people, and give them a richer, fuller understanding of ones identity," said Bhavin Shah, founder of Refresh.  "We want to help people find that ground to forge a pathway, and do more than just connect with one another, but actually relate."
It does this by helping you to understand more about who you're meeting with based on a variety of public information available through social media.  Essentially, it's focusing on the one-to-one relationship, as opposed to the one-to-many you typically see with sales CRM tools and sentiment analysis programs for social media.  And, the more you use the application, it will become even more helpful for you at your next meeting.
That's because once you download the app and connect it to your social media and email platforms, it works with your calendar to reveal insights on the people you're about to meet by aggregating information from sites like Facebook, LinkedIn, Twitter, and more.  It will then send you a notification before your meeting with helpful insights on the person.
After the meeting, it can easily capture important notes you'll need for your next meeting, too.  (It even works with Evernote.)  In addition to insights, the app also allows you to introduce people with a single tap and send a business card with personalized insights about yourself.
The idea first hit Shah ten years ago when he saw the power of the dossier, or briefing book, as it was called.  He was young, in his mid-20s, and working for LeapFrog, an educational toy company.  "It was the conclusion of a two-year project that I had led that came up serendipitously," he said.  At the time, he was running business development.  He received a phone call from the U.S. Department of Health and Human Services to talk about creating a version of their LeapPad to help women in Afghanistan learn about prenatal health.
"They couldn't just give them pamphlets because these women were largely illiterate.  So LeapPad provided this durable, cheap, lightweight but media rich, audio-based tool you could put a book onto and have it talk to them," said Shah.
Toward the end of the project, he was invited to go to Afghanistan with Tommy Thompson, the Health and Human Services Secretary.  They met in Germany, and boarded two Blackhawk helicopters to take them to a base in Kabul, Afghanistan, which was where he first saw the briefing book for Secretary Thompson.
"It said Secretary Thompson will arrive at 4:45 at the airbase.  You'll be greeted by these people. I flip the page, there was a bio about me that I'd never written," said Shah.  Shah also told me Thompson's first meeting in the briefing book was with a doctor.  It outlined that it was his fourth meeting with her, when their last meeting was, what they discussed, and what he promised her.
"My jaw was on the floor.  This is what it's like to be important; you don't have to remember anything," said Shah.  "This was early in my career; I'm 25 at the time.  I didn't really know how things worked."
I'm sure you can see the advantages to having this information, but that wasn't when Shah experienced his moment of epiphany.  That came when they got off the tarmac.  "It was one of those moments where there's a lot of commotion going on, but the world seems to stop for a minute.  Everything slows down, and you can remember every detail," he said.  "I saw Secretary Thompson chatting with the general.  The briefing book said 'acknowledge the difficult circumstances under which the general is operating and need for additional troops and security.'  That's all. Simple one-liner," said Shah.
What he saw was the general transform.  "All of a sudden that general who kept looking at his watch, stopped doing that and everything came to a calm, and I saw more smiles," said Shah.  The general even sat next to him and asked to hear more about his project, even inviting him to have dinner with the troops.
"It was an important lesson to learn young in my career.  That being successful, getting things done, it's not about a to do list or a calendar.  It's not about showing up on time.  We were late to all of our appointments in Afghanistan," said Shah.  "It was about showing up and understanding the person you were meeting, remembering what you talked about, knowing something about them so you can frame things correctly, and be apathetic to their situation.  World leaders and business leaders have been using this kind of tool for a long time as their key weapon to build and forge relations."
After that experience, Shah never forgot that moment in Afghanistan.  As technology began to catch up and the emergence of social media took place, Shah's mission became to create a tool that democratized the briefing book, allowing everyone the ability to create opportunities for themselves by making the most of their connections and meetings. That was the beginning of Refresh, and that's still their goal today.
While it seems like a straight-forward technical problem, it's really not.  For example, they found that a lot of calendar entries are not explicit invites.  "It might be call Chris or lunch with Caryn," Shah explained.  "It's important for a system that in theory delivers important things to know about the person to be able to interpret that.  We've built a whole natural language processing engine that's calendar specific to understand things like call with Caryn who was referred by Chris."
Right now, Refresh has over 40 million users and growing using their free iOS app with the primary audience being 25-35 year olds.  "They totally get it," said Shah.  "And another 16% are 35-45, and then we start to drop off pretty dramatically."
Of course, 25-35 year olds aren't the only ones who get it.  Refresh recently raised $10 million in Series A funding last October, backed by Redpoint Ventures, Charles River Ventures and Foundation Capital.  Shah also explained that the more content platforms that become available, the more important his tool will become to help make sense of the information.
And – If you're worried that an app this powerful won't be free for long, Shah assured me their goal is not to monetize the app at this time, but rather continue to provide a service that becomes indispensable to people.  After all, this app started with the idea to democratize the briefing book.  Charging for it would be counter-intuitive, and they have other options.
"There are plenty of models we can look at.  We have been getting interest from enterprises of employees using Refresh to create versions for them with team functionality.  So that path seems pretty straight-forward," explained Shah on their monetization strategy.
You can download the iOS app here, and stay tuned for Android.  While they don't have a date for their Android app at this time, Shah assured me they're working on it.
Refresh in Action