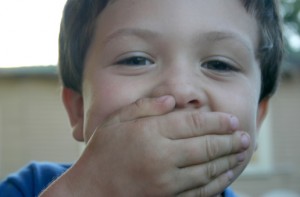 There are a lot of reasons to delete a tweet, some perfectly understandable: Mispellings, incomplete thoughts, or incompetent interns, for example.
But other deleted microblogs can provide valuable insight into an individual's deepset beliefs and impulse toward self-censorship. A new tool by the Sunlight Foundation, a government transparency watchdog group, seeks to track those would-be broadcasts by American elected officials in a searchable database.
DC-based startup Politwoops records deleted tweets by members of Congress, the President, and some political candidates. Sunlight Labs director Tom Lee says the tool is providing a valuable public service.
"In politics, Twitter is part of the ever-present 'spin room' of the digital age. But unlike other mediums, the record of events can be edited; tweets deleted from twitter.com are hard or impossible to see after the fact," Lee said, in a press release. "Politwoops identifies when politicians or their staffs are editing errors or rephrasing a tweet, providing a window into what politicians are thinking and how campaigns hone their social media messaging."
Telling second guesses are already rolling in. Florida Representative Jeff Miller deleted a link to a poll asking whether Barack Obama was born in the United States after 55 minutes. Other gaffes are subtler, but more image conscious: Four months ago, then-candidate Newt Gingrich deleted an awkward tweet that referred to him in the third person.
Other politicians have already caught onto the service, and are using it to witty effect. The day after Politwoops launched, Speaker of the House John Boehner tweeted — and then deleted — the message "You know what else has been deleted? Jobs in the Obama economy. Where are the jobs? #politwoops." The deleted tweet is now archived by Politwoops.
Different versions of the site have been launched in 12 other countries, by local organizations. The first version of the service was designed to track tweets by politicians in the Netherlands.
Deleted tweets were thrust into the fore last year when then-Representative Anthony Weiner accidentally broadcast a photo of his own Netherlands to the entire Twitterverse. After a botched denial – a different type of coverup, in Weiner's case, might have avoided the whole problem – Weiner resigned under intense political pressure.
Image: Image: Melissa Wiese (Flickr) CC BY 2.0