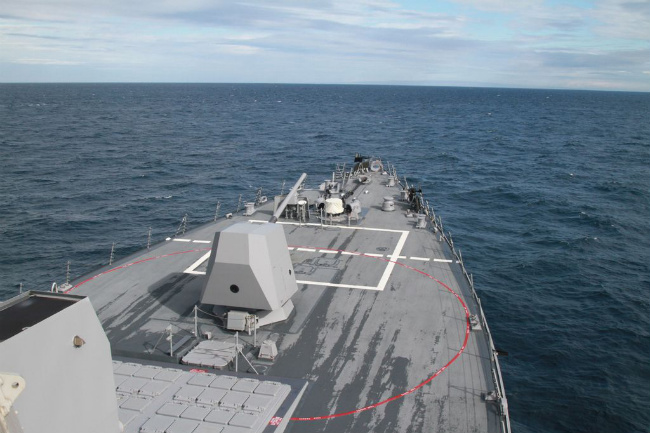 *Editors Note: This is part 1 of a several part series- Bay area entrepreneur Steven Bustin had a unique opportunity and we thought our readers would enjoy a walk through a different lifestyle. His pieces on his adventure aboard the USS SPruance will appear once per week- enjoy!
How did I get here? I am standing on the rolling, wet, steel deck of a state of the art billion dollar war machine loaded with more advanced technology than most of us in the high tech industry will ever knowingly get close to. I am the 'media tech' representative of a team of seven recognized leaders selected to participate in the Navy's "Leaders to Sea" program. The program embarks influential business, community and government opinion leaders to US Navy surface ships already underway via a Navy Seahawk helicopter. It is a highly valued and sought after nomination and I am more than thrilled and honored to be selected. Other participants have backgrounds in systems engineering, economic development, public policy, real estate and winemaking. An eclectic, accomplished and engaging group with curious minds and a sense of adventure.
The selection process can take from three months to three years starting from the time of nomination to vetting by the Navy and finally selection and embarkation to a ship at sea. My embarking was made possible via my nomination by Dennis Hall, founder of Avere Group LLC, through collaborative referral to him by social engagement strategist Susan Etlinger of Altimeter Group. Dennis Hall initially submitted my nomination to the Public Affairs Officer of the US Navy Commander, Naval Surface Forces, Pacific. The Public Affairs Officer selected me for the Leaders to Sea Program. Besides the "leader" qualification there were others: we had to be physically able to spend the day going up and down steep ladders both inside and outside the ship as we pitched about in the sea, be reasonably comfortable with confined spaces, not have any serious medical conditions, wear appropriate shoes and clothing and carry nothing more than a small bag for personal effects such as a camera. Additionally, we had to sign a waiver. I did and no, I didn't read it.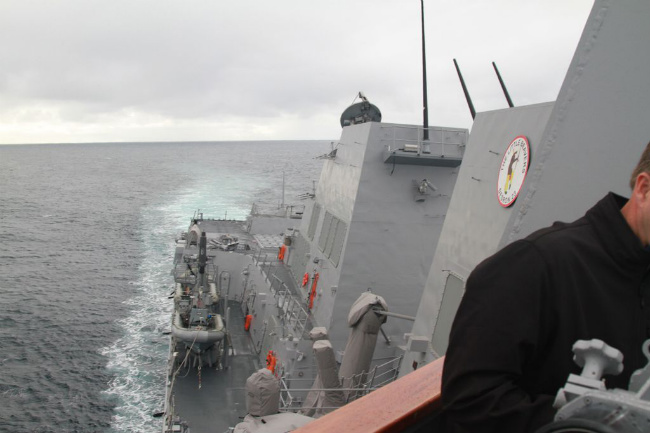 As an entrepreneur with a few successful startups in my past, a writer, historian and sailor, I was particularly interested in the technology of the ship not only in terms of weapons and propulsion but also in terms of crew living conditions and internet access. The Spruance was the newest destroyer in the Navy, commissioned October 1, 2011. A new state of the art ship is like a startup in many ways, albeit a billion dollar startup. Everything is new, technology is cutting edge, systems are constantly being tested and the highly trained people that make it all happen do multiple jobs under pressure with intermittent and irregular sleeping hours.
I wanted to learn about the technology of the ship and was curious as to how much information the captain and crew would share with us, how much access we would have to that technology, what could we photograph and what was forbidden.
The weather in San Diego was, by Southern California standards, just short of miserable for several days before our embark. It rained, it was cool, it was windy, and it rained again and again. I said to the doorman at my downtown San Diego hotel "I've never seen weather this bad in San Diego" and he replied "Neither have I, Sir". The night before the scheduled embark, I was concerned the event would be cancelled due to weather, but the forecast was for partially clearing skies. Our point of embarkation would be the Naval Air Station (NAS) on Coronado Island in San Diego Bay and I needed to be at the designated parking lot on the other side of Coronado no later than 6:15AM. No problem.