Last weekend I had the opportunity to spend an hour with one of the most innovative artists on the Internet, Cliff Roth.
Roth is a digital speed painter who utilizes Google+ Hangouts to create portraits of users in under fifteen minutes. Roth screencasts a digital touchscreen on his computer for the user to witness the digital painting come to life.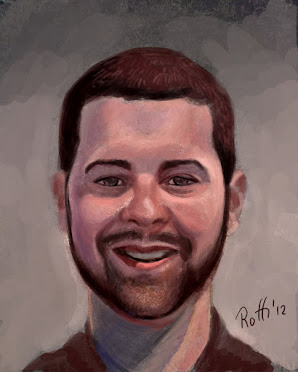 Mr. Roth has had the pleasure of painting various people in the tech industry including Guy Kawasaki. Although Roth doesn't charge for his speed paintings, due to the intense demand he now offers a guaranteed scheduled slot for $25. Mr. Roth is an amazingly talented artist and is in every sense an entrepreneur. He manages a day job, five kids, and speed painting at night. Before the painting I asked Mr.Roth several questions about the process and how he utilizes Google+ to promote his work. 
What's the first thing you look at when you see someone you are painting in a Hangout?
"I start with the background so the first thing I look at is that. Is it darker or lighter? What color is it? What is the shape of the head I am framing?"
How do you convey the person's personality as well as their looks into such amazing paintings in such a short period of time?
"I capture personality and likeness by focusing on what makes the person unique. It is one of the reasons why I prefer doing speed paintings from the live feed as opposed to photographs. Easier for personality to show. I often fail to properly convey the personality of some people if they are transfixed looking at my painting as I am painting them. That is why you sometimes see me depicting jovial people with serious expressions. I now screen-capture to supplement the live feed for that reason."
What's the most important detail in your paintings? 
"My signature is the most important detail about my paintings (judging by the number of complaints I get if it is lacking)."
How long have you been a member of Google+?
"I have been on G+ for about 8 months."
Are there any other social networks that you utilize to display your work? 
"I have a FB 'fan page' though I have less than 700 followers on it. I haven't really updated it all that much since joining G+. I also have a twitter account but haven't been super active on there though I am going to be changing that for no other reason than to further my admittedly arbitrary goal of out-Klouting Carter Gibson."
What are some improvements you are hoping to see in Adobe Photoshop CS6?
"I don't even scratch the surface of PS CS5 so I don't need any improvements."
How can other artists learn to use social media to promote their work? 
"Experiment. Try using various forms and see what works and what doesn't."
What tips would you would give young artists and designers?
"Practice, practice and more practice. When you think you don't need anymore practice go look at some art that takes your breath away…..that will usually knock that foolish thought out of your head."
Who are some of your favorite artists?
"There are many different artists in many different genre's whose work I admire. In the field of Caricature I have been greatly influenced by Leonard Redman, Jason Seiler, Court Jones, Joe Bluhm, Dominick Philbert, Alberto Russo among many others. Artists in various other fields whose work has influenced me in one way or another: Terry Border, Boris Vallejo, Jule Bell, HR Giger, Ann Kullberg, Bobby Chiu, Thierry Lafontaine, Georges Seurat, Salvadore Dali, Feng Zhu, Mark Chong , I can really go on and on…. "