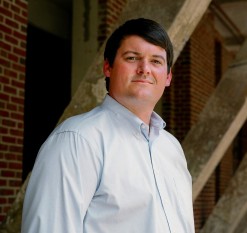 Michael Goodmon, owner of American Tobacco Campus and founder of American Underground, gave a keynote speech to the very first graduating class of the Triangle Startup Factory, an accelerator focused on helping along fledgling companies in the Southeast region of the United States.
In his keynote speech, Goodmon asked young entrepreneurs to consider their informal daily role in the worldwide community of innovation, whatever level of the chain they currently hold, and think about how they can contribute to the efforts of the community.
Check out the full speech below to learn more about the advice Goodmon gave to the audience of young entrepreneurs earlier this month.
I'm very excited to be here today and excited that American Tobacco is playing host to this celebration of these promising young companies.

But I'm most excited that each of you value and support the efforts of so many people that work tirelessly to make this ecosystem tick.  By coming here… to Triangle Startup Factory's Pitch Day, to the American Tobacco Campus, to Durham, to the Triangle… you have become part of a movement that will change how this city and region grows, competes and prospers well into this century.

First, let me take this opportunity to welcome you.  For some, this community has been home for quite a while.  Others are new to us. Regardless, you are all part of a growing family, and as such, you have a role and responsibilities in carrying the torch.

When asked, I always say that the growth of the entrepreneurial community that we have and continue to see in downtown Durham has happened unwittingly.  I am not being humble about our collective efforts in saying that, I am being truthful.  Not that we don't have an idea of what we are trying to achieve.  Our intent has been clear.  And not that we don't have a plan.  I just don't think we caught the magic of what was bubbling up in this amazing community until we took a step back.

These companies before you today, along with many, many others fill their specific role in the ecosystem.  They work hard, day in and day out, to take nuggets of brilliance and turn them into chunks of gold.  And they do so selflessly.  Yes, they are here to make money, as are many of you — but also to experience first-hand the support and mentorship, the pride and sharing of success, the constant challenge to make everyone better than the day before.  These innovative minds know exactly what the importance of this community is, and how they can be additive to it.

So, I ask you, what is your role?  How do each of you fit into the entrepreneurial engine taking shape?  Whether you are an investor, an economic development professional, a service provider, a Fortune 500 company or a concerned citizen, there is a role.  Nothing formal.  We don't do name tags and job titles here.  Rather, a job to do day-in, day-out that develops from a realization of the enormous potential all of this holds.

There is a vision that drives us together toward the future.  A vision of an entrepreneurial community with plentiful talent and unlimited resources.  In this future, good and bad ideas alike can find an ear to listen to them and a mentor to support them.  The most veteran of founders and most inexperienced of idealists can work, side by side, in a collaborative and open environment.    Every company, from the largest and oldest to the smallest and youngest, will commit resources to our area's growth and success.  And investors, from the massive national and international firms to local angel networks, will look at our community with great potential and a ready appetite.

But you don't have to look very hard to see it already happening around you.  When Keval Mehta and his team at Jaargon wanted to create an app that would help consumers understand better the ingredients in their food, they could have taken that idea to developers in Boston, Silicon Valley or anywhere else around the globe.  But, Keval and team placed a premium on being able to interact and exchange ideas easily and freely, so they took the project to their partners right here in the community.

Similarly, when James Avery at Adzerk, along with the close-knit group of start-ups in downtown Durham realized that regardless of their political affiliations they opposed a constitutional amendment barring any couples, same sex or not, from forming civil unions in North Carolina, they decided to take action.  Each contributing what they could, the group built StartupsAgainst1.com, a movement dedicated to the opinion that a constitutional ban would hurt business and make the state less attractive to the talent we must continue to attract and retain.  While the amendment passed, these somewhat casual interactions led to a new movement that has endless possibilities.

And maybe most significantly, when Chris Heivly's dream of building the premier accelerator in the southeast proved difficult to fund locally, he took his quest out west and brought home a significant commitment that not only gave every company in front of you, and many more in the future, a better shot at success, but proved that our community has what it takes to be player on the national scene.  With The Triangle Startup Factory came new and welcomed members to our community that begins to weave our web with others from across the country.

While these folks and many like them continue to play a critical role in the entrepreneurial community, it is not enough.  It will take much more than the creative passions of the undeniable talent this area has attracted to change our trajectory and speed.  It will take all of us, filling whatever role we can, whether comfortable or not, to get there.

The good news is that we are not the first and we are not alone.  Many have come before.

Within these very walls some of the most remarkable entrepreneurs this country has ever seen took a small pouch of tobacco and turned it into one of the largest cigarette companies in the world.  From it spawned a community of talent people, each paying a key role.  From tobacco farmers, buyers, auctioneers, manufacturers, packagers, to shippers, everyone brought value.

But from a tobacco heritage has emerged a new economy.  An economy which demands creativity and diversity, talent and drive, and maybe most of all community.  And we, without a doubt, have community by the truck loads.

So, I ask you again, what's your role?  

Each of these companies will leave here today compelled to continue building their business.  What will you leave here compelled to do?  At the end of the day, it is for you to decide. But know that your role, whatever it may be is critical… so grab it, and let's get to work.