THE GIST: Liibook, a startup founded in Bueno Aires, Argentina, is a community for authors to publish, showcase, and connect over their very own eBooks. The website hosts eBooks available for download at a price the author can set (or not if they choose for it to be freely available) and can be downloaded in a convenient range of formats including pdf, epub, and mobi. The website runs on its own currency, a simple coin referred to as credits. New users start out with three free credits, though they can buy more through a PayPal account in bundles of 10, 20, and 50 ($14, $25, and $56, respectively). The most appealing feature of Liibook is that authors don't need to be approved to post their work on the website; eBooks can be as short or long as the author wants, and the price can be set accordingly. The author maintains all publishing rights and receives the entirety of profits made by their work.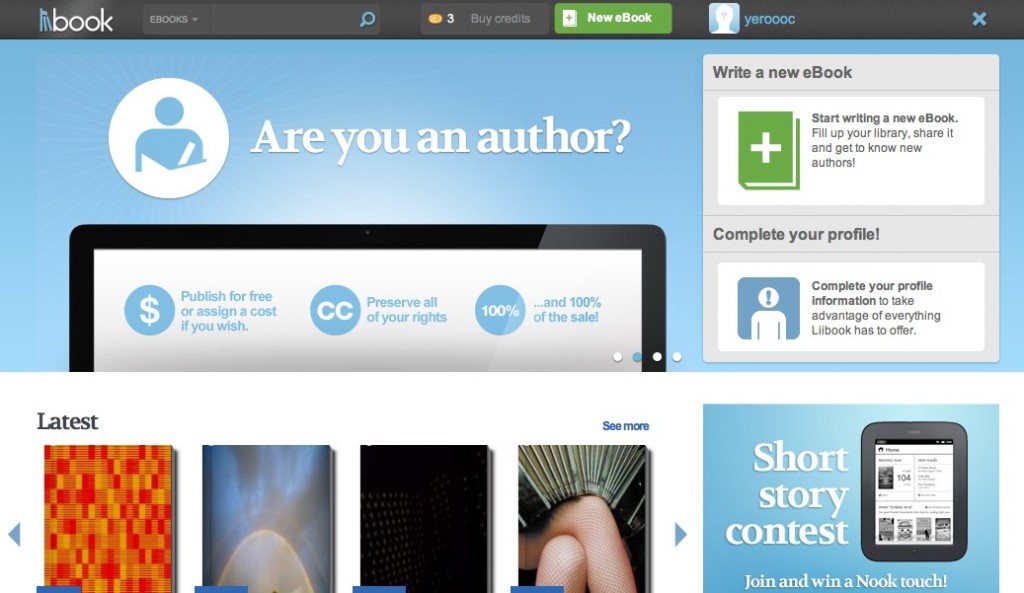 FOUNDERS: Liibook was founded by Federico Roma (CEO), who then brought on Sebastián Micha (CTO), and Ignacio Roizman (CFO) in 2011.
BACKSTORY: Roma said he came up with idea for Liibook while backpacking.
Me and my travel partners were talking about how musicians, photographers and filmmakers had tools online to promote, distribute and commercialize their work, while we couldn't find a tool that did the same for writers. As soon as I got back from that trip, I invested all my savings in developing the first version of the site.
The startup was a finalist in two competitions in Argentina, and won the Wayra Startup Contest organized by Telefonica, a large telecommunications provider in both Europe and Latin America.
TARGETED CUSTOMERS: "I think everyone who has an interest in the written word can be our customer, but for now we want to get the attention of new and independent authors, and readers always looking for them. With music, we've seen a great number of new amazing indie bands, we want to recreate that for books. We strongly believe that there are incredible authors hidden in everyday people."
BUSINESS MODEL: Liibook makes money through its credits, which are equivalent to $1 plus a transaction fee that goes toward the service. They sell the credits in packs so that users will tend to have leftover credits that can be used to buy other eBooks they might be interested in. Once authors accumulate 50 or more credits, they can redeem them as actual money through PayPal. Roma explained that Liibook hopes to utilize their unique currency to allow authors to buy promotion in the future.
We're actually developing a variety of online services to help the author promote, improve and sell their eBooks, that will be payed with credits. This services will reduce the credit-to-cash redemption rate, increasing Liibook's revenues.
INVESTORS: Liibook received seed funding from Wayra after winning their startup contest. Roma said they're currently looking for a second round of investors.
ON THE COMPETITION: "For now, the two major differences between Liibook and its competitors are the fact that Liibook has no admission requirements, allows authors to retain copyright and 100% of sales. We're currently developing a new set of tools that will further differentiate our site from the rest, but I'd rather talk about that once they're finished."
INSPIRATION: "I think my main inspiration was to create and develop something that will affect as many people as possible, and had a important innovation level. I wanted to shake things. Music, photography and cinema are forms of art that made a transition to the digital world, I loved the idea of helping spread books on the web."
ON THE SUCCESS OF ITS AUTHORS: "We are not aware if any of the authors who self-published on Liibook have, for example, made a contract with a publisher. In my opinion, maybe in the future authors don't even need them, or at least publishers won't have the power they have. What I can say is that many authors use Liibook to generate a reputation and followers, which they then use as an introduction to traditional publishers. We even believe that publishers may also find something positive in it, because it reduces their risk when it comes time to, distribute, and promote new authors."
SCREENSHOTS: