When Amazon announced a new, discounted version of their wildly successful Kindle eReader back in April of this year, everyone was looking for the rub.  Of course, upon further inspection, the catch rested within these words "includes Special Offers & Sponsored Screensavers".  Essentially, Amazon had become the first manufacturer to offer advertising-subsidized hardware. Tech blogs were abuzz about this entirely new concept, and some proclaimed Amazon to be paving the way for the future of gadgetry.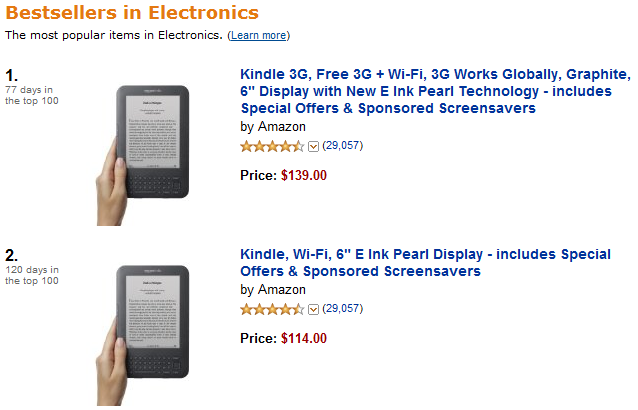 Four months later, how's this ad-supported Kindle doing?  See the image above – people have voted with their wallets, making the ad-supported Kindle Amazon's bestselling electronics device.  Apparently, $25 off the original price is enough to bolster consumers' affinity for advertising.  General Motors, P&G, and Visa are among the early adopters testing the new platform and even more recently, AT&T has upped the ante on the Kindle's discount, offering $50 off the Amazon eReader's 3G version. Not only does this present a huge opportunity for CE manufacturers, like Amazon, it offers consumers a unique value proposition in exchange for nothing more than their attention.
For now, Amazon has been smart to only include mildly-obtrusive ads within the subsidized version of the Kindle, but one can envision a correlative scale of interruption vs. discount down the road.  Imagine the checkout process for your next don't-really-need-it-but-gotta-have-it-device to include a variety of available discounts based on the following features:
– Frequency of ads: how often are you willing to engage with a brand
– Execution: going beyond sponsored screensavers with video or rich media
– Shared personal info: to ensure a more relevant advertising experience
– Choice of sponsored brand: select one, or multiple brands that you're interested in
Offering this type of control and transparency (some of which Amazon is currently testing, but not incentivizing) has resonated with consumers lately (see here and here).  The evolution of advertising-subsidized hardware would only make consumer choice that much more valuable.  And while it's too early to judge the direct ROI coming out of this new business model, it's clear there's a lot to gain from a consumer's perception that saving money on their beloved gadgets is directly linked to a specific brand's contribution.