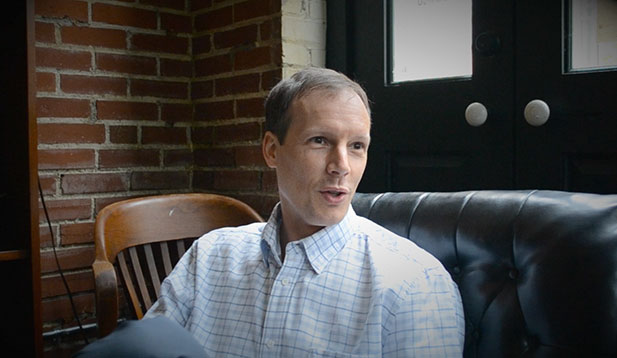 Not a lot of glass blowers outside of Dale Chihuly are big deals. Jim McKelvey, however, is kind of a big deal. Of course, it has very little to do with his glass – not that his work at Third Degree Glass Factory in St. Louis is not lovely.
No, McKelvey was irked by the fact that he had trouble selling pieces at shows because he couldn't easily allow consumers to purchase artwork with credit cards. He in turn partnered with Jack Dorsey and the two launched mobile credit card processing platform SQUARE.
But apparently Jim likes to wander. Or at least work, a lot – just launching a new venture that he's basing in St. Louis called SixThirty, which will center on developing technologies for the financial services space.
In my pen at the St. Louis Zoo over a nice bamboo stalk, I recently caught up with him to discuss his latest and greatest.
Q: You really hate Pandas, don't you?
A: Not at all.
?Q: Right, OK, well, you've got a lot going on right now. What's up with all the activity?
A: SixThirty has been in planning stages for about a year now, but we didn't know when all the companies and civic groups would finally get their necessary approvals. LaunchCode was an idea I discussed publicly a year ago.  A year later, nothing had happened, so while at a meeting with friends Dan Lohman, Chris Oliver and Chris Somers, I suggested that we make it happen and the group agreed.  There was no excuse to wait.  The good news is that both of my new endeavors have great teams who function quickly and independently.
Q: Not that it doesn't deserve it, but why all the focus on St. Louis?
A:  St. Louis needs more help than San Jose.
Q: Tell me a bit about SixThirty. It seems to have multiple benefits for big financial services companies, startups around the world, and St. Louis economic development.
A: Both sides benefit. Big financial service companies have trouble innovating and need a supply of new ideas, while startups need access to the rails of commerce.
Q: Why is something like this needed and what does a company from say, Scotland or the Middle East, get from participating in SixThirty?
A: Fintech startups are unlike other tech companies because they need access to the financial world.  Banks, money transmitter licenses, ACH access, insurance, capital reserves – the list goes on.  St. Louis has the largest concentration of financial companies besides New York.  And since access to that ecosystem is easier in St. Louis, we thought SixThirty could be the onramp.
Q: There are accelerators all over. Why is it in the interests of these startups to come to St. Louis?
A:  The key is really the easy access to the big companies. St. Louis has a unique ecosystem in that it's a big city that functions like a small town.
Q: Let's dive a bit deeper into LaunchCode, which is more locally focused and pairs inexperienced coders with expert developers at local companies. Tell me about what inspired this and how you see it working?
A: It's a pretty simple concept. Take two coders with two keyboards working together on one monitor. It's much faster and flexible than the typical higher education model and has been proven to work and increased productivity at Square and other tech companies in Silicon Valley.
Q: One of your endeavors – Cultivation Capital – is heavily involved in SixThirty. Tell me a bit about Cultivation and its growth?
A:  Venture capital outside of the coasts can be challenging. We saw a tremendous need for post-seed funding in the Midwest with so many companies running out of capital or having to move to the coasts. Cultivation has stepped in to try to fill that void, and we've invested in 11 companies to date in technology and life sciences.
Q: And you're sure you don't dislike pandas?
A: I'm sorry, what was the question?