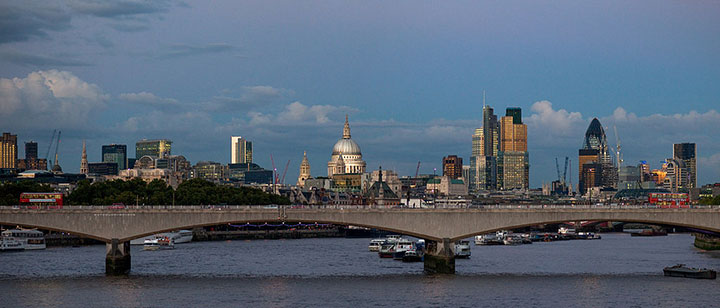 In my much younger, non-legal, and less wise years, I drank my first Budweiser, standing outside a corner shop in downtown Farnborough, England, just a few miles from London. The can I was drinking from proudly declared it was made in St. Louis, Missouri.
Looking back, this was my introduction to the town that has become my adopted hometown. Probably not the introduction today's regional leaders would be looking for, but an introduction nonetheless. St. Louis, Missouri, situated in the heart of America, overlooking the mighty Mississippi, and a vibrant center of commerce and entrepreneurship in what some people, to their loss, would call "fly-over country." And, as an expat involved in the entrepreneur and tech startup scene, this region's rich business history might just bode some good things for the future of both the US and the UK.
This region has a rich history of entrepreneurial startups growing into some of America's largest and most successful companies. Enterprise Rent-a-Car is here, with Brits in high places within the walls of the organization. Enterprise was started in 1957 with seven cars and a hunch that customers would embrace the crazy idea of leasing automobiles. The aforementioned Anheuser-Busch, started by immigrants in the mid-1800s, is today one of the world's most famous, and most consumed, beers.
And today, both Americans and immigrants are everywhere here, starting up new businesses and securing capital via the plethora of entrepreneurship and innovation hubs such as Cortex, T-Rex, BRDG Park, Lab 1500 and the STL Ventureworks startup support networks, and the rich angel network and incubator funds such as Arch Grants, Capital Innovators, SixThirty, iSelect and others. Add to this many mentoring programs through organization such as ITEN, the leading academic centers including Washington University's Skandalaris Center for Entrepreneurial Studies, and the alignment of the region's top academic institutions, and the pitch is ready for an exciting competition.

These groups, and their backers, are actively recruiting companies from across the US and overseas, and dangling the carrots of $50,000 or $100,000, or more, to get them to move their visions forward, in partnership with the St. Louis region. Currently, both SixThirty and ArchGrants are accepting applications for funding. One example of an international company that received funding from SixThirty is the Edinburgh, Scotland-based MiiCard, who arrive in St. Louis in the coming days to take their company to the next level.
As I gaze across the Pond toward my old stomping grounds in southern England, I see some amazing similarities between the startup work going on here with the startup work going on in London. An individual I had the privilege of meeting and writing about in the Weekly Telegraph while he was kayaking the entire Mississippi, Sam Norman, is very active in the startup scene in London. He is one of the founders of BridgeGlobal, an organization that supports ambitious young people to build great futures in business and social enterprise.
"The start-up scene in London is booming," Norman said. "New apps and tech startups are launched daily. There are numerous incubators from Wayra to ImpactHub to Innovation Warehouse, each with a separate identity of tech, social enterprise and more."
On a national scale these efforts are being mirrored, through the efforts of Startup Britain, a private sector-led initiative launched by Prime Minister David Cameron and more than 60 businesses, and Startup America Partnership that supports a US-wide network of startup communities dedicated to advancing the success of American startups.
With the efforts of Mark Zuckerberg of Facebook fame and others to improve the entire immigration system in the US, allowing easier access for those who would come here and build a better future that positively impacts the world, St. Louis is perfectly positioned to be one of the leading startup centers in the US and possibly the world.
As Zuckerberg said, "The future of our economy is a knowledge economy. And that means that getting the most talented people into this country is the most important thing that we can do to make sure that the companies of tomorrow are founded here."
Bottom line, for expats looking with fondness at the London startup scene and wondering how to bring their world-changing ideas from vision to reality, there is a vibrant startup scene in the heartland of the US that takes 'Meet Me In St. Louis' to a whole new level. So, come on in. The water's fine.
Photo Credit: Jimmy Baikovicius