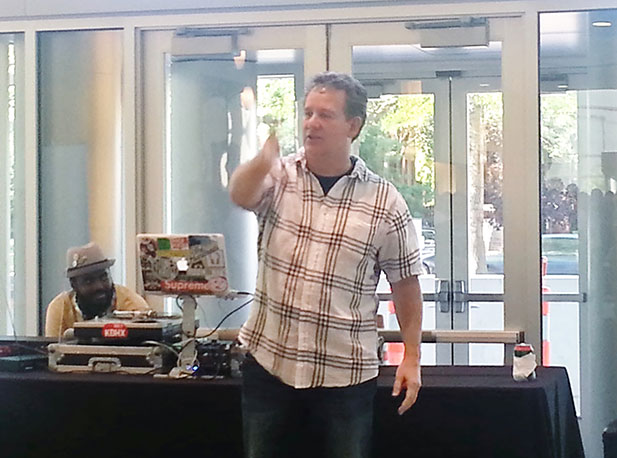 Chris Heivly, the co-founder of MapQuest and managing director of the North Carolina-based accelerator program Triangle Startup Factory, came to St. Louis this week to check out the startup scene. And he liked what he saw. So much so, that he kinda-sorta-maybe agreed to expand his accelerator program to the Gateway City (more on that later).
Heivly was brought to St. Louis by Josh Parker, who works for Wexford Science & Technology and is looking for companies and organizations to fill the @4240 building on the CORTEX campus. The vacant building, formerly known as the Heritage Building, is undergoing a $73 million renovation and is a big part of the $186 million second phase of development at CORTEX, the Midtown science and research district looking to revitalize the area of St. Louis City between the BJC Medical campus and the Saint Louis University.
Though he was greeted like a rock star by the local entrepreneurial community, Heivly made no qualms about the fact that, much like St. Louis, there is little glitz and glamour in the startup scene in his native Raleigh-Durham area. In fact, Heivly said most regions other than Silicon Valley or New York City are, realistically speaking, tier-two communities that have a lot of the same challenges.
At a networking event Wednesday at the CORTEX One building in Midtown, Heivly told the crowd of more than 100 people that the Research Park was, for a long time, home to "two Cadillacs and a boat" entrepreneurs; people who had a few successful business ventures only to cash out, buy houses and toys, and live a comfortable life without reinvesting the proceeds back into the entrepreneurial community.  St. Louis entrepreneurs can relate. Ask them privately what it's like raising local money, and the phrase "deep pockets and short arms" is sure to come up.
Another similarity between St. Louis and Heivly's stomping grounds is the shortage of talent and the risk-averse culture among some local IT pros. While there's a shortage of talented developers with up-to-date skills around the country, startups in regions other than a select few tech hotspots have to also compete with the bigger salaries and stable jobs offered by large corporations. In Raleigh-Durham, IBM alone has some 10,000 employees, and other software giants such as SAS and Red Hat also attract thousands of talented engineers and developers, Heivly said. The same dynamic plays out in St. Louis, where corporate giants such as Boeing, MasterCard and AT&T compete aggressively for skilled developers.
Heivly said that if startups and their support organizations hope to compete in the battle for talent, first they have to create awareness of the opportunities that exist. That's what he did in Raleigh, inviting students from the region's major universities to free events just to make them aware that there is another option.
"I told them, 'Listen, there's a single-digit percentage of you out there that don't want to go down this path. I just want to make you aware that there's this whole ecosystem out there — of a 2-person company, a 10-person company, a 50-person company. If you're thinking this might be the right thing for you, there is a safe path.'"
And everything has gone (mostly) well, Heivly said. The Triangle Startup Factory started its accelerator program in Spring 2012 and so far has invested in 16 companies. Structured much like St. Louis' Capital Innovators, startups in the program receive $50,000 in seed funding and are put through a 12-week accelerator program that includes mentoring, strategic advice and professional services. After the program, the startups are eligible for a $20,000 to $150,000 convertible note.
So what keeps Heivly up at night? That came out after a question from Joe Schlafly, the senior vice president of Private Markets with Stifel, Nicolaus & Co.
Schlafly, who has spent the last year raising several multi-million dollar rounds for local startups, asked how Heivly envisioned being able to attract follow-on funding for his portfolio companies in Raleigh-Durham.
"That's what I lose sleep over," Heivly said. "And I eventually go to sleep by telling myself that if I have patience, it will all work out."
The shortage of money for startups that are in the post-accelerator but pre-Series A level is also a concern in St. Louis, where local funds such as Cultivation Capital were established just last year to address that specific concern.
"Bad ideas go a little deeper in the valley, as far as getting funded, than they go in our tier-two communities," Heivly said. "But I still believe that great entrepreneurs with great ideas find a way to get funded. And that's the advice I give everyone."
Heivly said he has identified 25 to 30 new funds that have been created in the last couple of years and are strictly focused on investing in post-seed, post-accelerator companies. Those are funds located around the country and most of them are specifically set up to do non-Valley, non-New York deals, he said. And he sees it as his job to make connections and open doors for his portfolio companies to pitch to those funds.
The last question at the event came from Dan Lohman, co-founder of the Lab 1500 co-working space in downtown St. Louis and CEO of tech startup Pushup Social. If St. Louis entrepreneurs managed to attract more than 100 people to the networking event, Heivly was supposed to entertain the idea of expanding the Triangle Startup Factory to St. Louis.
"So, did we get enough people?" Lohman asked.
Rather than respond with a yes, Heivly gave the crowd something of a half-nod while starting to clap, his hands raised high above his head, inviting everybody to join him. The gesture, while providing a happy ending to the question-and-answer session, seemed to acknowledge the question more than it did anything to answer it concretely.
If Heivly does eventually sign a deal with Wexford to bring his accelerator program to town, the challenges that startups face in St. Louis won't be anything new to him. And he's found a way to put himself to sleep despite those challenges.