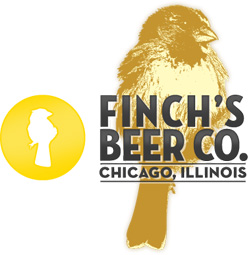 In 2009, serial entrepreneur and branding guru Ben Fench needed an escape from the client-service world. Finch is the co-founder of The Killswitch Collective, a digital marketing agency that boasts clients like Pitchfork and MTV. To change things up, Finch started putting together a business plan for developing a craft beer.
"I chose beer because it sells itself. I could concentrate and focus on the beer and when it's done it's done," Finch said. His creation, aptly dubbed Finch Beer, doesn't stem entirely from his love for beer, but for his love of entrepreneurship and creating brands. With financing help from his father, they teamed up with brewer Richard Grant and stared brewing last March. Finch Beer has acquired a large following, including 4,500 fans on Facebook just 6 months after launch, mostly likely due to Finch's branding and marketing expertise.
When Taxi Share Chicago founder Dan Fedor approached  Finch about a possible partnership a few months ago, he liked the idea of working with Taxi Share to create an anti-drunk driving campaign. Fedor said that his friend Mark Lawrence of SpotHero had suggested that he contact Finch after hearing how supportive they were of social media startups.
"Craft beer doesn't have a big voice, but [discouraging drunk driving] is still a responsibility, and this opportunity seemed meant to be," said Finch. He also said that partnering with Taxi Share wasn't necessarily about reaching a bigger audience, but letting their fans and followers know they care about their safety and responsible drinking. Finch's large fan base has also helped to grow Taxi Share's reach, and Fedor said they have been a pleasure to work with.
"They could not be more helpful. [Account representative] Kristin Denecke has very graciously given her time to help get our posters into city bars and as a result of their tweets, we have been contacted by a local news station to do a future segment piece on Taxi Share." Currently, Chicago bars that carry Finch Beer have Taxi Share posters with a QR code available for scanning and downloading the app.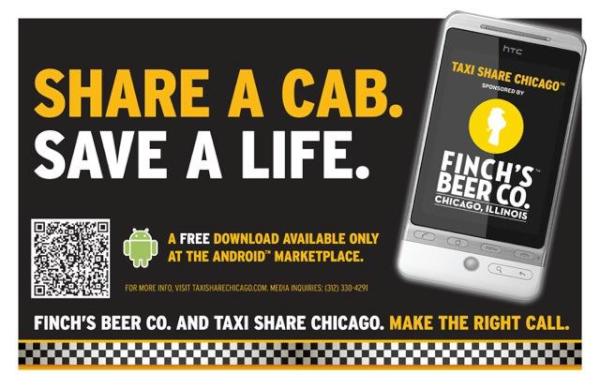 "I am thrilled that two young Chicago born companies have struck such a mutually beneficial relationship," Fedor said. "It demonstrates how exciting this city has become as an epicenter for tech and social media companies." Hopefully we'll see more partnerships like this one evolve as the Chicago tech and startup scene expands. Taxi Share launched in San Francisco earlier this week and Finch Beer is in the process of creating customized cans with the community-sourced t-shirt company Threadless. Big things seem to be in the cards for both companies.
You can follow Finch Beer on Twitter @FinchBeer