A group protest of Facebook's all male board of directors took place outside of the company's New York City headquarters this week. The protest, organized by the women's group UltraViolet, was an attempt to publicly deliver a petition to the company signed by over 53,000 people demanding that Facebook appoint women to its board before its IPO.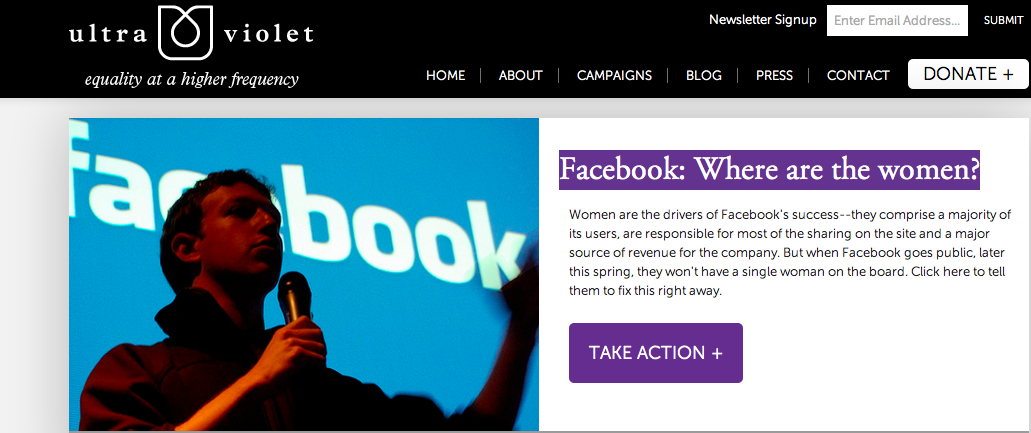 UltraViolet co-founder Shaunna Thomas was on hand to explain to the media why at least one seat on the board of Facebook should be reserved for a woman:
There are tons of studies that tell us that companies just operate better when there are women in the top levels of the company."
She also stated that the company could benefit from "a more diverse leadership set."
The problem with protesting Facebook on the basis of gender issues is that Facebook is one of the most female friendly tech companies that exists.
Facebook's Chief Operating Officer, Sheryl Sandberg, is one of the most powerful businesswomen in the world today. Sandberg's views on women in high-powered roles have been discussed extensively in publications like The New Yorker, and TIME magazine just named her one of 2012's most influential people in the world.
Other influential women who hold high positions at Facebook include: Jocelyn Goldfein, Director of Engineering; Katie Burke Mitic, Platform Marketing Lead (she's also on the board of eBay); and Naomi Gleit, Director of Product.
Sandberg sets the tone for the positive female experience at Facebook. She is known for her philosophy that women can hold powerful positions at any company that they chose to, as long as they are willing to stay on track and work hard at their careers. She cites self selection as a reason why most powerful positions are held by men. Sandberg herself is a busy mom, who shares parenting duty with her CEO husband Dave Goldberg, who runs SurveyMonkey. Just this month, Sandberg was celebrated in the media for her commitment to leaving the workplace at 5:30pm to spend time with her family.
Her influence has also helped to make Facebook a family-friendly workplace. She continually encourages women to step up to the table, and to take on hard and interesting projects.
[youtube id="18uDutylDa4″ width="600″ height="350″]
According to jobs and careers community GlassDoor, Facebook has received a rating of 4.5 out of 5, making it an excellent place to work according to 142 anonymous former employees. The site allows users to rate and comment on the pros and cons of working for their former employers. Most of the reviews cite Facebook as a grueling yet rewarding place to work, where both expectations and work output are high.
The positive comments cite "changing the world" and "working with some of the most talented people I have ever met" as overwhelming pros of working at Facebook. Gender is not an issue, because everyone is trying to perform at their highest level as an employee, not as a male employee or a female employee.
The only thing that this protest pointed out correctly is that the current board is in fact all male and all white. If these protesters looked closely at the career histories of these men, they would see that they all have a positive track record working with high powered women in technology. Marc Andreessen co-founded Ning with Gina Bianchini in 2004. Reed Hastings, CEO of Netflix, who recently joined Facebook's board, also has a number of high powered women working with him at the video streaming service.
The UltraViolet protest was misguided. It wasn't based on the facts. Thomas publicly accused Facebook of not having a diverse leadership set, and this is simply not the case. There are many women in powerful positons at the social network who are dedicated and talented. This protest does more harm than good by not acknowledging these women.