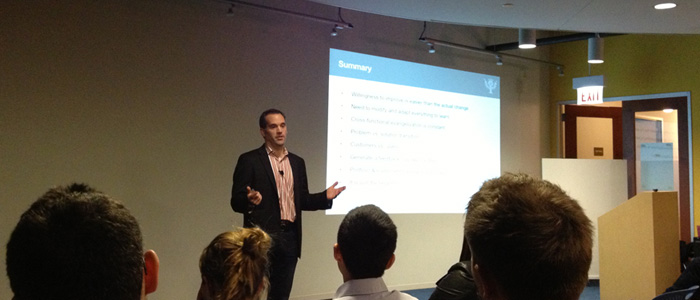 This month's Lean Startup Circle event, held at Google's offices in downtown Chicago, focused on using lean startup methodology in the enterprise. Encyclopaedia Britannica's Greg Healy took the stage to tell the story of how how in just nine months the nearly 250 year-old business turned its operation around using lean startup principles.
Healy opened by asking the audience what they think Encyclopaedia Britannica is up to today. "Wikipedia," one person called out to laughter from the audience. "Fair enough," Healy replied.
As senior vice president and chief production officer at the company for the last year and a half, Healy has been working to bring Encyclopaedia Britannica back into the education spotlight. Healy said the first thing he did when he began at the company was ask the executive team, "What is the most important thing over two years that you have to do?" The company decided that change, and growing to become relevant were the most important objectives for the future of Encyclopaedia Britannica.
A company that was once defined by a monstrous set of books on the shelf has done away with physical products entirely and has become an all digital company looking to harness the booming education technology market. In order to do this, the company had to figure out a way to be competitive in the emerging startup landscape and reshape its company culture for the better.
The end goal became to move away from the school library and into the classroom. Healy began with the most important, and possibly most difficult, step of all — one that the company still continues to do on a daily basis: evangelizing the lean startup mentality across all aspects of the business. Armed with 50 copies of Eric Ries' lean startup bible, Healy gave a copy to anyone involved in product development at the organization.
"We educate weekly about what lean means, and we still hold meetings to reeducate," said Healy. "Lean does not work without trust and that has to be built over time. That is super critical; the team has to be committed to that."
First to go was the company's "short order cook mentality," in which product development was consistently led through sales. 'We had to move away from 'everything's a priority,'" said Healy. "That's chaos, you can't do it that way."
The company began managing its development based entirely on tracking key product indicators (KPIs) to gain traction and find the features that customers really wanted. "Like if a tree falls in the forest and nobody's around to hear it, it's the same thing if you're not doing tracking," Healy said. "You need to follow to learn."
Encyclopaedia Britannica now uses potential customer databases, interviewing teachers to get feedback and testing small capacity prototypes to learn what works. By driving change based on tangible, data mapped KPIs, the company has been able to reduce its product release cycles from 12-14 weeks down to only 14 days.
"Through the quick interview process we realized that we're almost going to have to go back to a startup process," said Healy. "It's one thing to sell to a customer, it's another thing to get them to use it."
Using the new prototyping and feedback-focused mentality, lean startup methodology has led the company to create one of its most successful features to date: the Elementary homepage of its Britannica Online School Edition K-12. "People in sales said it would never work, but today it's the number one page that people love, because we started with teachers," Healy said.
While the company continues to stick to preaching lean startup methodology on a weekly basis, Encyclopaedia Britannica has already seen a company-wide cultural shift from their efforts. Where the long-running company was once using up to 50 percent of its developmental resources at any given time, it now uses between 10 to 15.
"This whole process of using lean methodology and getting product feedback has decreased the guessing and assumptions, stopped the uncertain investment," said Healy. "Lean is saying no when you have to. We had some tough decisions but we learned a lot."